Sclerotherapy Training for Nurses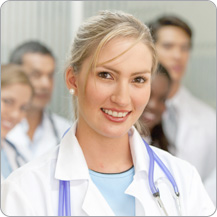 Even in our challenging economy, the job market for medical aesthetic practitioners continues to grow.
Did you know that last year over 30 million laser, Intense Pulsed Light (IPL) and medical aesthetic treatments were performed totaling over 8 billion dollars?
If you are a nurse looking to enhance your practice with sclerotherapy training for nurses or other medical aesthetic procedures, consider National Laser Institute.
What is Sclerotherapy?
Over 80 million Americans suffer with varicose veins (commonly called spider veins) and 75% of these are cosmetic in nature, which you will understand and be able to treat after completing sclerotherapy training.
Visible veins (on the legs, feet, hands, etc.) give the impression of age and poor health. And while many people wish to receive treatment, they are unaware of the safety, effectiveness, and lack of discomfort associated with newer sclerotherapy methods.
Sclerotherapy training for nurses involves a relatively quick and painless procedure in which a sclerosing agent is injected into spider veins, causing them to collapse and eventually fade away. This procedure has been around for many years and continues to be a popular choice, because it is effective and affordable.
Cosmetic laser and vein clinics perform these medical aesthetic procedures not only because they are lucrative and simple to perform, but also because their clients receive great results using both laser vein therapies and traditional sclerotherapy using FDA-approved detergent sclerosants.
Why is National Laser Institute the best school for Sclerotherapy Training for Nurses?
Whether you are seeking to enhance an existing practice, start a new practice or do cosmetic procedures part time — sclerotherapy training for nurses at National Laser Institute is for you!
Our team of leading nurses, doctors and medical aesthetics experts will ensure that you are in the best hands for this CE/CME accredited course for leg vein removal. Our classes are small, hands-on and conducted in a beautiful retail medical spa setting. Please check our website's student testimonials and you will see — we have earned our reputation as one of the leading providers of medical aesthetics education.
For more information on sclerotherapy training for nurses, contact us today at 800-982-6817 or fill out the form on your right.