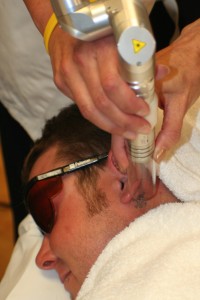 According to an article on Market Watch, "laser tattoo removal procedures climbed 32% from 2011 to 2012." This could be for a variety of reasons. People get tired of old tattoos, regret their mistakes, find it hard to obtain jobs, etc. When people feel like they are being held back by their ink, a number of them are continuing to turn to laser tattoo removal treatments.
Laser tattoo removal isn't a complex procedure. In fact, it usually takes between 10 and 15 minutes to perform. Laser tattoo removal treatments work by using a cosmetic laser to target intense light pulses onto the tattoo's pigment. The laser causes the tattoo's pigment to break up into fractionalized pieces and is then flushed out safely through the body's lymphatic system. It's a quick and harmless treatment and is said to work faster than the creams and potions.
People who receive tattoo removal training have the opportunity to expand their horizons in the career field. Many work in tattoo parlors, dermatology clinics, doctor's offices, medical spa's and more. Tattoo removal training has continued to be such a huge success because the career opportunities are flexible. Also, the industry has been experiencing an influx of customers which doesn't show signs of slowing anytime soon.
There are many benefits to receiving tattoo removal training, including:
• The opportunity to work in the health and beauty industry
• Gain the ability to make a large income
• Work within a successful and growing industry
• Work flexible hours
• Interact and build relationships with clients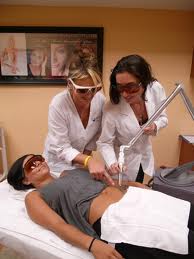 We offer tattoo removal training for those looking to enter the health and beauty industry. National Laser Institute is the leader in the medical aesthetics industry and has been around for years, earning a prestigious name and reputation. We have many starred reviews as well as an A+ rating at the BBB.
National Laser Institute offers hands-on training with scheduled clients as well as classroom lecture training. We want every student to experience the best possible training possible.
To learn more about tattoo removal training or National Laser Institute, please call 800.982.6817.
Read more information on: