Laser Tech
What is a laser tech?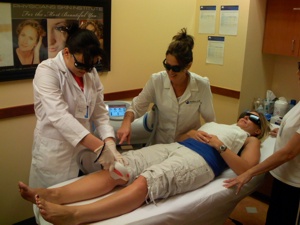 A laser tech is a skincare specialist who works with cosmetic laser technology to help rid a variety of skincare concerns. These can range from wrinkles, age spots, acne, pigmentation, and more. Laser techs are trained with advanced laser equipment, safety processes, and protocols. They are people who enjoy interacting with clients on a daily basis and who love the satisfaction of bringing new found confidence to clients after delivering treatments.
Where can a laser tech work?
A laser tech is capable of working in many different types of environments. Medical spas, doctor's offices, dermatology clinics, laser centers, and much more.
How much does a laser tech make?
There are actually multiple different types of pay scenarios for laser technicians. Some laser techs work part time and some work full time. Like anything, it will also depend on your experience. There are some places that offer commission only, commission + hourly, only hourly, or only salary. We have laid out some pay structure examples for laser technicians here!
Where can I receive laser tech training?
National Laser Institute is the leading laser training school in the nation. We pioneered the cosmetic laser training curriculum and have trained countless attendees over the last decade. Our comprehensive laser training course is led by leading professionals in this field who are experts in the laser industry. We offer hands-on clinical training so you can practice laser techniques on real clients in our luxury medical spa environment.
Want to learn more about becoming a laser tech? National Laser Institute offers free, live webinars each month. They tell you all about the cosmetic laser industry, show you live demonstrations, and even answer live Q&A questions. Take a look at one of our webinar sneak peeks below!
Learn more about National Laser Institute's laser training courses by simply filling out the form on your right or by calling 800.982.6817.