School for Medical Estheticians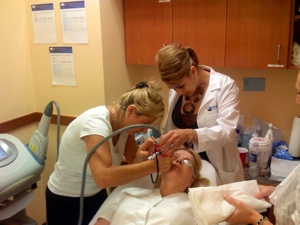 The medical esthetics industry has been on the rise for the last several years, and many medical professionals, estheticians, and career changers have been interested in becoming certified. One of the best things about school for medical estheticians is that it only takes two short weeks of education whereas school for medical estheticians may take between 4-8 months.
Medical estheticians are trained to perform many different types of skin rejuvenation treatments using cosmetic laser technology. This can include laser hair removal, laser tattoo removal, laser wrinkle reduction, and other kinds of laser skin treatments.
There are several different benefits of school for medical estheticians, including income benefits, career opportunities, and the overall state of the industry–all of which we will discuss below.
Medical Esthetician Careers
As a medical esthetician, you have the opportunity to work in a variety of different places. This includes:
• Dermatology clinics
• Spas, medical spas, and salons
• Fitness centers
• Laser facilities
• Hotels, resorts, cruise ships
• + More
Medical Esthetician Salary
We understand that finances are important. As the leading medical esthetician school in the nation, we have seen medical estheticians earn different income scenarios. The most popular is $15-$25 an hour with possible commission. There is also commission only work structures as well as salary based pay.
Training and Certification
In most states, you will only need your high school diploma or GED in order to receive medical esthetics training. There are a few states across the nation that require you to be a medical professional, so be sure and check with your state's regulations.
With our medical esthetics training course, you'll spend part of your time in the classroom learning from experts in the industry. The second part of your time is spent completing hands-on clinical training with scheduled clients within a luxury medical spa setting in order to get familiar and comfortable performing laser treatments. By the end of this course, you'll gain the techniques, safety operations, and knowledge to go out and perform treatments on your own clients!
National Laser Institute
National Laser Institute is the leading laser school for medical estheticians and has earned many outstanding reviews. To learn more about medical esthetician school or National Laser Institute, please call 800.982.6817.