Laser Training Phoenix, AZ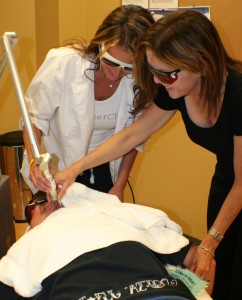 Over the last decade, millions of people have been receiving cosmetic laser treatments from medical professionals and laser technicians. Hollywood celebrities like Kim Kardashian and Lea Michele have publicly talked about how much they approve of laser treatments like laser hair removal and laser tattoo removal, which has then caused more and more people to become curious about these state-of-the-art treatments. Just last year, there were over 1 million laser hair removal treatments performed. Because the demand for laser treatments keeps increasing, more health and beauty professionals as well as medical professionals have taken an interest in laser training.
Laser Training Regulations
In Arizona, you'll need to attend 40 hours of didactic lecture training, 24 hours of hands-on hair removal training, laser safety officer training, and 24 hours of other cosmetic laser treatment training in order to become a cosmetic laser technician. National Laser Institute offers the laser schooling you need in order to meet regulation and certification requirements.
Comprehensive Laser Course
Most health and beauty experts choose our comprehensive laser training course because it's the laser education course that offers training with multiple in-demand laser treatments. You'll receive hands-on training with popular modalities such as:
• Laser hair removal
• Laser tattoo removal
• Laser acne reduction
• Photofacials
• Laser wrinkle reduction
• Laser stretch mark removal
• + More
This course is broken into two parts. The first part is informative, didactic-based lectures taught by experts in the laser field. You'll learn everything from different skin types and how they correlate to specific laser settings, tissue interaction, laser selection, laser safety, and more. The next part is hands-on training within a luxury medical spa environment. You'll get to work on scheduled patients, performing treatments on them with the best cosmetic laser equipment available.
Laser Training in Phoenix
We have a laser training location in Phoenix as well as in Dallas, and students fly out from all over the nation to attend one of our two locations. We are the leader in the medical aesthetics industry and are recognized as gold standard education. We've also received a number of excellent reviews as well as an A+ rating from the BBB. To learn more about laser training or National Laser Institute, please call 800.982.6817.