Aesthetic Medicine Training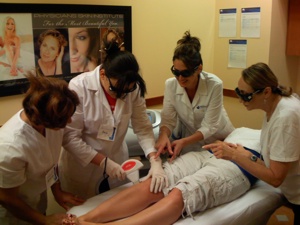 Whether you're dreaming of a new career or ready to revamp your current medical profession, aesthetic medicine training offers entrance into the exciting world of medical aesthetics. And the best part is, it takes less time than you may think! In just two weeks' time at NLI, you'll be ready, able and certified to perform Botox and dermal filler injections, cosmetic laser treatments including photofacial skin rejuvenation, eMatrix radiofrequency wrinkle reduction, fractional wrinkle reduction, acne scar reduction, and laser hair removal. It's one of the easiest ways to add cash revenues to a new or existing medical practice.
Aesthetic medicine training is perfect for the medical professional who is passionate about skincare and helping others look and feel their best. We are a nationally recognized medical aesthetic and laser training institute, and our staff is highly knowledgeable about aesthetic medicine training including state licensing requirements, school financing and the med spa job industry.
Aesthetic Medicine Training with NLI
National Laser Institute is the place to be for aesthetic medicine training. With convenient classes offered in several major cities, you'll be sure to find the schedule that works best with yours. We even offer night classes in our Arizona and Texas locations. Call us today at 1-800-982-6817 and let us answer all your questions about aesthetic medicine training!
Read more information on: