ARRA Approved Laser Training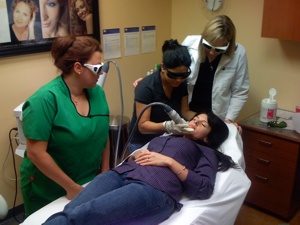 The Arizona Radiation Regulatory Agency (ARRA) is an established health and safety program put in place to enforce the rules and regulations of radiation in the state. A section of this includes the use of laser technology. When applying for a laser school in Arizona, it is best to attend one that offers ARRA approved laser courses. National Laser Institute meets the ARRA approved laser training requirements and is on the official list as an approved laser school. In fact, National Laser Institute was one of the largest school in the state of Arizona to become approved by the Arizona Radiation Regulatory Commission as a training institution for cosmetic laser treatments.
Attending an ARRA approved laser training school like National Laser Institute is important because the school is following the regulations and meeting the requirements that have been set by the state. ARRA approved laser training certifies attendees as laser technicians who can perform safe, effective laser treatments.
ARRA Approved Laser Courses with National Laser Institute
After completing training with National Laser Institute, you will be certified to perform laser and medical aesthetic treatments. We offer courses for medical professionals, estheticians, cosmetologists, those seeking a new career, and many more. Laser training can be completed in two weeks or less. Hands-on clinical training is offered in our state-of-the-art medical spa environment. Courses are taught by leading experts in this field and include plastic surgeons, dermatologists, laser technicians, and many more. Choose from our many ARRA approved laser courses!
If you'd like to learn more about ARRA approved training or National Laser Institute, simply fill out our form on your right or call 800.982.6817.