5 Reasons Clients Should Choose Cosmetic Lasers; Learn Why During Laser Training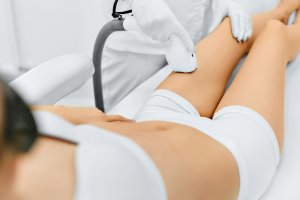 Over 1.1 million laser hair removal treatments were performed in 2016, according to the American Society of Plastic Surgeons (ASPS).
But did you know there are advantages to getting cosmetic laser treatments as opposed to traditional spa treatments like facials and massages?
During laser training, you'll learn 5 reasons why cosmetic laser treatments can benefit your future clients.
Here's Why Your Clients Should Consider Cosmetic Lasers
Technology provides controlled accuracy and strength. Medical aesthetics technology has come a long way since it was first introduced nearly 2 decades ago. Lasers are considered the most effective, because they can accurately target deep layers below the skin's surface.
Laser treatments bring back your glow. While traditional spa treatments (facials, massages, etc.) leave your skin feeling clean and hydrated, cosmetic laser treatments rejuvenate your skin from the inside out. These medical aesthetic treatments will help you look and feel younger and healthier.
Noninvasive with little to no downtime. You might be enticed by the promised results of cosmetic surgery, but in the end, it's still surgery, and it requires time for recovery in order to see results. On top of that, surgery comes with a number of risks like nerve damage, infection and blood loss. Cosmetic laser treatments, on the other hand, are noninvasive, which means they offer clients amazing results with little to no downtime. And for some laser treatments, the results are immediate.
Treatments can be done on your lunch break. The days of taking a half-day off from work to get pampered are long gone. These days, most of your favorite laser treatments can be administered in as little as 30 minutes. That's right. Treatments like laser hair removal and Intense Pulsed Light (IPL) photofacials can be done during your lunch break!
It's for tattoos, too. Lasers aren't just for skin tightening and laser hair removal. If you have an unwanted tattoo that you are embarrassed about (57% of you are!), rather than trying to cover it up, you might consider laser tattoo removal.
Laser Training at National Laser Institute
Are you passionate about the health and beauty industry? Now's your chance to enter this $16 billion industry with medical aesthetics training from National Laser Institute!
We offer a variety of cosmetic laser courses that can be completed in as little as 1-2 weeks!
Our Comprehensive Laser Course is the most popular among estheticians and total career changers looking to become cosmetic laser techs.
During this 2-week course, our knowledgeable instructors will teach you the most popular and in-demand laser treatments, including:
Laser hair removal
Laser wrinkle reduction
Skin tightening
Acne reduction
Cellulite and fat reduction
Tattoo removal
And more!
The first half of the course is spent doing didactic (classroom) training where you will learn things like laser biophysics, tissue interaction, disorders of the skin, and pre- and post-patient care.
The remaining days will be spent doing hands-on training in our educational setting. We have a dedicated team that works around the clock to schedule paying clients for you to work on. During hands-on training, you will be placed in small, intimate groups where you will watch live cosmetic laser demonstrations. You will have the chance to perform these treatments yourself in order to gain real world experience.
By the end of our Comprehensive Laser Course, you will feel comfortable and confident to perform laser treatments for any skin type in a variety of medical aesthetic setting!
If you are interested in learning more about our cosmetic laser courses, please give us a call at 800-982-6817 or fill out the form on your right.