Laser Hair Removal For Men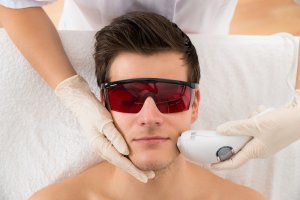 Fact: Laser hair removal is not just for women. More men are showing an increased interest in cosmetic treatments.
For some, the concept of "manscaping" can be a whole new world, but the results can offer significant benefits both personally and professionally.
You might wonder: Why the sudden interest? Let's explore the reasons more men are requesting laser hair removal treatments.
Why Men Get Laser Hair Removal Treatments
A 2009 study found that 84 percent of men in America engaged in some type of hair removal (or body depilation) besides shaving their face.
What caused this sudden change in permanent hair removal? Here are five reasons:
Excessive body hair.

Laser hair removal is an appealing cosmetic procedure for men who are uncomfortable with excess hair in areas like their back, stomach and chest.

Hygiene. Manscaping helps some men relieve irritation and itchiness experienced in the summer months caused by excess body hair.
Easier facial grooming and ingrown hairs. Cosmetic lasers are the only way to treat pseudofolliculitis barbae (ingrown hairs). Having significantly less hair makes shaving easier and lowers the risk of developing inflamed, red or dark bumps that could scar.
Balding. Believe it or not, some guys would rather treat their head than deal with sporadic baling.
Athletic activities. Several male athletes seek laser hair removal because it increases speed and decreases discomfort that is associated with rubbing and chaffing.
Benefits of Laser Hair Removal For Men
Laser hair removal for men is beneficial for a number of reasons. First, men generally have darker and coarser body hair than women. This is ideal for laser hair removal treatments.

Second, since laser hair removal can treat large areas effectively, men can treat areas such as their back or chest relatively quickly.

Men also don't have to worry about continuous upkeep as they would with things like shaving and waxing because permanent hair removal can be accomplished in just a few sessions. Typically, laser hair removal requires around 8 to 12 sessions spaced 5 to 8 weeks apart for maximum effectiveness.
How Does Laser Hair Removal Work?
A laser hair removal treatment kills the hair root using laser light energy to penetrate the hair shaft. This procedure doesn't kill the follicle and makes it harder for another hair to grow in the area treated.
Before a laser hair removal session, you will be given protective eye gear. You will feel a slight stinging sensation once your treatment begins. Once your treatment is over, you may see some swelling and redness. This is temporary and won't keep you from your daily activities.
Medical Aesthetics Training at National Laser Institute
Did you know you can become a Cosmetic Laser Tech in just two weeks with medical aesthetics training from National Laser Institute?
With over a decade of excellence, we pioneered the health and beauty industry with cosmetic laser and injectable training courses.
Our Comprehensive Laser Course will teach you some of the most in-demand laser treatments like laser hair removal, Intense Pulsed Light (IPL) photofacial, skin rejuvenation, body contouring (CoolSculpting) and skin tightening!
Each course is divided into didactic (classroom) education and clinical-hands on training in our educational setting to give you the most in-depth learning experience.
In the classroom, you will learn things like facial anatomy, tissue interaction and laser mechanics. This will prepare you for your hands-on training.
We have a dedicated team that works around the clock to schedule clients for you to gain real-world experience. During clinicals, you will also have the opportunity to watch comprehensive laser demonstrations no more than a foot away from the training bed!
By the end of the course, you will feel comfortable and confident performing laser treatments in any medical setting!

To learn more about National Laser Institute's cosmetic laser courses, please fill out the form on the right or give us a call at 800-982-6817.