Here's Why You Should Expect More Male Clients After Laser Training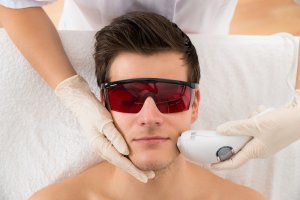 Fact: More men are getting cosmetic treatments like laser hair removal and Botox.
Since 2005, there has been a 65% increase in the number of males who have gotten cosmetic procedures, according to The American Society of Plastic Surgeons (ASPS).
You might be wondering, "What does this mean for me?" The answer: Once you complete cosmetic laser training, expect more male clients.
3 Reasons to Expect More Male Clients
So, why should you expect to treat more male clients after cosmetic laser training? Here's 3 reasons:
1. Cosmetic treatments help men look their best.
Guys can be just as concerned about their appearance as women, especially when it comes to job opportunities where looking fit, young, and masculine can help increase your chances of ascending the corporate ladder. As a cosmetic laser tech, you will learn men are great candidates for Intense Pulsed Light (IPL) photofacials, because they often have larger pores and more sun damage than women. Men also have oilier skin, which leads to clogged pores and facial blemishes.
2. Men want tips from the pros.
In general, men are more likely to be less informed about medical aesthetic treatments than women. But there are some men, on the other hand, who are actively looking for new at-home techniques and tips or new products to use. Cosmetic laser techs or aestheticians can explain these treatments using what they learned in esthetics school to their male clients.
3. Men are seeking subtle procedures.
Most men like shorter office visits, which means performing combination treatments to eliminate the number of return visits. When it comes to the treatment itself, men tend to gravitate towards the ones that are subtle and natural (think laser hair removal).
Medical Aesthetics Training at National Laser Institute
Did you know you can become a cosmetic laser tech in just 2 weeks with training from National Laser Institute?
With over a decade of excellence, we pioneered the industry with cosmetic laser and injectables training courses.
Our Comprehensive Laser Course will teach you some of the most in-demand laser treatments like laser hair removal, Intense Pulsed Light (IPL) photofacial, skin rejuvenation, body contouring and skin tightening.
To give you the most in-depth learning experience, each of our courses are divided into didactic (classroom) education and clinical-hands on training in our educational setting.
In the classroom, you will learn things like facial anatomy, tissue interaction and laser mechanics. This will prepare you for your hands-on training.
We have a dedicated team that works around the clock to schedule clients for you in order to gain real world experience. During clinicals, you'll also have the opportunity to watch comprehensive laser demonstrations no more than a foot away from the training bed!
By the end of the course, you will feel comfortable and confident performing laser treatments in any medical setting!
To learn more about National Laser Institute's cosmetic laser courses, please fill out the form on the right or give us a call at 800-982-6817.