The Benefits of Aesthetics in Dental Practices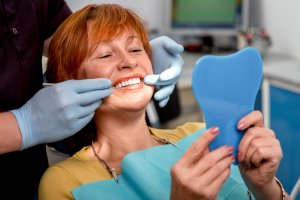 The next time you visit your dentist for a cleaning, don't be surprised if he or she asks if you have ever considered doing something about those frown lines or crow's feet!
As the medical aesthetics industry continues to grow, more dentists are taking the plunge into facial esthetics. In fact, the American Dental Association says at least 20 state dental boards approve Botox for cosmetic use or a specific dental operation.
Dentists may offer Botox for TMJ disorders or facial cosmetic purposes such as getting rid of frown lines or crow's feet.
Botox in Dental Offices
Botox (botulinum toxin) has become the most popular wrinkle treatment in the country with 7.2 million procedures in 2017, according to the American Society of Plastic Surgery (ASPS).
There are several ways Botox can be used in the dental realm:
Temporomandibular Joint Disorders (TMJ).

Botox relaxes muscle contractions in the jaw that lead to headaches and facial pain.

Bruxism.

Botox for bruxism relaxes muscles that cause teeth grinding and clenching, which can lead to pain and destruction of teeth.

Orthodontic therapy.

Clients who have strong facial muscles can disrupt the new alignment of teeth, so Botox injections can calm those muscles to prevent relapse after braces.

Adjustment to dentures.

If patients have difficulty adjusting to new dentures, Botox can provide the muscle relaxation necessary to let their new prosthodontics settle into their mouths.
Dentists make some of the best Botox injectors because they understand facial anatomy and esthetics. They also have experience with injections as they administer a local anesthetic before a cavity filling or a root canal.
Botox Training at National Laser Institute
Are you considering adding Botox to your dental practice? National Laser Institute offers Botox and dermal fillers training for medical professionals that can be completed in as little as a weekend.
Each course combines didactic theory with clinical hands-on training for a comprehensive learning experience.
In the classroom, you will learn things like proper injection techniques, facial anatomy and patient care. The second half of the course is spent in a luxury medical spa environment where you will work on patients. We want you to make the most of clinicals which is why we schedule paying clients for you to gain that real-world experience.
Botox training is the perfect opportunity for physicians who want to expand their practice and increase revenue by adding Botox, dermal fillers and cosmetic laser treatments as they are cash-based procedures. Many RNs take these courses to broaden their skill set and gain supplemental income or start a new full-time career as a cosmetic injector.
If you are interested in Botox and dermal filler training, fill out the form on your right or give one of our admission advisors a call at 800-982-6817.