Botox Course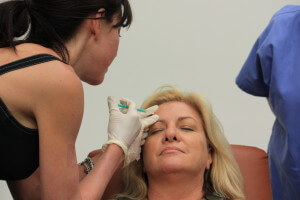 Medical professionals have the advantage of advancing their career through the medical esthetics industry. This is an industry that has grown and expanded within the last decade and reveals no signs of slowing down.
It's not secret that people are willing to pay the big bucks when it comes to beauty. In fact, it was estimated that Kim Kardashian spends over $100,000 on beauty treatments each year alone. Nobody wants to throw in the towel when it comes to fine lines, wrinkles, age spots, or discoloration, and many people don't want to undergo the risks and costliness of plastic surgery options. This is where the world of cosmetic injectables comes into play.
Advance Your Career With Our Botox Course
When applied for cosmetic purposes, Botox has phenomenal anti-aging results. Crow's feet can be smoothed away, forehead lines can disappear, and those wrinkles between the eyebrow can be eliminated with just one 30-minute treatment. Of course, Botox also has amazing medical purposes too, including improvement of migraines, bladder control, and muscle spasms.
For medical professionals wanting to advance their career or even jump into a new field of medical practices, attending a Botox course is the perfect opportunity to gain Botox training. By attending a Botox course at National Laser Institute for CE/CME credit, you're giving yourself the necessary skillsets and certification you need in order to perform Botox. We offer hands-on Botox certification courses led by experts in the medical esthetic industry to give you the advanced skills you'll need to succeed.
We are the leading medical esthetic school in the nation and not only offer Botox injection training courses, but also cosmetic laser training, sclerotherapy courses, dermal filler classes, and many more courses that can help advance your career. To learn more, call us at 1-800-982-6817 or simply fill out the form on your right. We want to see you succeed.