Botox Nurse Training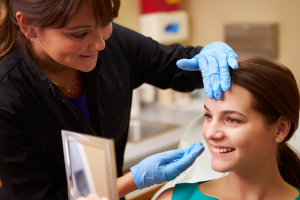 If you're an RN seeking to become a Botox nurse, you first need to get involved with Botox training. A Botox nurse is someone who typically works within the medical aesthetics practice, but they don't have to be full time. There are many part time Botox nurses out there. The medical aesthetics field includes all types of nonsurgical cosmetic treatments, like Botox, dermal fillers and laser hair removal.
A Botox nurse can work in a medical or day spa performing treatments, and they can also work in dermatology clinics, doctor's offices, and healthcare clinics.
To become a Botox nurse, you first have to make sure your state allows nurses to practice cosmetic injectables. Many do, but in order to find out you can call 800.982.6817.
Next you're going to want to find an accredited medical aesthetics school. National Laser Institute is the leading cosmetic medicine school in the U.S. that trains doctors, nurses, physicians, and more how to perform cosmetic injectables and laser treatments. NLI also offers hands-on Botox training so nurses will feel confident performing on their own clients.
Become a Botox Nurse with National Laser Institute
National Laser Institute offers a variety of Botox training and comprehensive cosmetic injectable training courses. You can earn your Botox certification in as little as a weekend. Courses are taught by leading medical professionals who have been in the medical aesthetics industry for several years. We offer clinical training in our luxury medical spa facility so you gain the confidence you need to go out and perform Botox treatments.
If you'd like to see what other nurses are saying about National Laser Institute, you can watch our short video below or read our attendees' reviews!
You can learn more about Botox training or National Laser Institute by filling out our form on your right or by calling 800.982.6817.