Botox Training for Nurses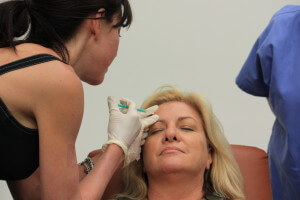 If you're a Registered Nurse interested in expanding your skill sets in the 10 billion dollar medical aesthetics industry, then Botox training at National Laser Institute's medical aesthetics school might be fit for you. Our courses are designed for medical professionals like Registered Nurses (RN), Physicians (MD & DO), Nurse Practitioners (NP), Physician Assistants (PA), and Dentists (DDS & DMD).
Botox (Botulinum Toxin A) is the leading nonsurgical cosmetic treatment in the nation, according to the ASAPS. There were over 5 million treatments performed in the U.S. alone last year. There is a high demand for this particular treatment because it provides clients with no downtime, fast results, and more youthful looking skin. Only medical professionals, like registered nurses, can provide these Botox treatments as long as they've obtained Botox certification through a training program.
Botox Training for Nurses at National Laser Institute
National Laser Institute offers hands-on Botox training for nurses at our leading medical aesthetics school. Our Botox course is led by leading medical professionals who are experts within this industry. Not only do they make this important information and material easy to understand, but they are over-eager to answer any questions that arise during classroom or clinical training.
Course Objectives:
• History, safety, and preparation
• Risks and benefits
• Indications and contraindications
• Facial anatomy and physiology
• Advanced techniques
• How lines, folds, and wrinkles occur
• Client consultation
• Hands-on injection techniques
Hands-on Training

In this Botox training course you will also experience clinical, hands-on training within our retail medical spa environment. With this real life experience, you will get to greet and consult with actual clients and provide them with Botox treatments. This gives you a chance to practice and gain confidence with administering Botox.
Botox training for nurses at NLI provides CME/CE credits upon course completion. We also provide access to our medical aesthetics library, which gives you thousands of pages of resources at your fingertips including clinical studies, marketing materials, videos, and more.
Career Opportunities
Nurses have many career opportunities when it comes to the medical aesthetics industry. Some nurses will only provide Botox treatments part time, and some do it full time. We have also seen nurses step away from nursing completely and enter the medical aesthetics field head on. With the ongoing hassle of insurance reimbursement, nonsurgical cosmetic services like Botox are a cash-in-hand business. Because Botox doesn't last forever, you're capable of building good client retention so you can keep happy clientele coming back for more.
Nurses with Botox certification are able to work at medical spas, dermatology clinics, laser and aesthetic treatments centers, doctor's offices, and more. Wherever there is a need for these nonsurgical cosmetic services, you are capable of providing.
Nurses Success Stories at NLI
We train hundreds of nurses who are interested in obtaining not only Botox treatments, but Dysport, dermal fillers, sclerotherapy, laser, and more.
"I was able to get a job within two weeks with a family practice doctor," Kathleen Madsen, a RN who took our Botox training course, says. "My favorite patient is one that's excited when she's finished [with the treatment]. They're hugging you on their way out the door!"
If you're interested in more of our success stories, watch our video below!
Enroll Today!
You can obtain Botox training for nurses in as little as a weekend at National Laser Institute. If you'd like to learn more about our course schedule, training, and more, simply fill out our form on the right or call 800.982.6817 to speak to our friendly advisors.