Certified Laser Technician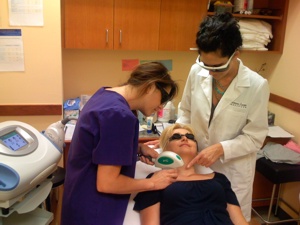 Certified laser technicians use cosmetic lasers to effectively treat a variety of problematic skin issues. This includes laser hair removal, radiofrequency skin tightening, IPL photofacial skin rejuvenation, cellulite reduction, stretch mark reduction, and more. It is important for individuals to receive proper laser training and education before treating clients. Gaining certification teaches you the importance of laser and client safety so that you can perform the best services possible.
Become a Certified Laser Technician
Each state has its own rules and regulations for becoming a certified laser technician. There are some states that only allow doctors, nurses, physicians, and other medical professionals to receive training. In most states, individuals with a high school education, GED, or higher can enroll in a laser training course to gain certification.
Unlike esthetics school, laser technician training takes about two weeks to complete. Courses like National Laser Institute's comprehensive training program include hands-on training with clients to gain real world experience. It's important to find a laser school that's accredited and includes clinical experience required, if needed.
Training with National Laser Institute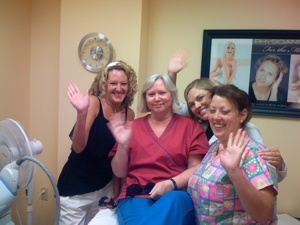 National Laser Institute's laser training school offers a variety of courses for career changers, aestheticians, medical professionals, and others interested in the billion dollar market place of medical aesthetics. Our laser courses are taught by leading experts in this field.
As an attendee, you'll receive hands-on training within our retail medical spa. Our instructors will be by your side as you greet each client, go through patient history, and then provide a safe, effective treatment. We've found that the more our attendees practice, the more confident and successful they become in their newly learned skill sets.
Our classroom portion of laser training covers important information in regards to laser safety, skin and anatomy, equipment, and more. Here you'll learn the following:
• The Fitzpatrick scale
• Laser safety officer training
• Tissue interaction
• Wavelengths and laser selection
• Risks and benefits
• Pre and post treatment care
• Treatment contraindications
• Treatment plans
• More
Careers and Employment
Many of our attendees are concerned about their careers after they compete their laser technician certification course. At National Laser Institute, we don't send you off to fly without a pair of wings. We offer graduates access to our Graduate Services department, which provides you with career advice as well as hundreds of job opportunities each month. We welcome you to contact us with any questions or concerns you have post-training.
We also provide you with many unique resources, like our online medical aesthetics library. This is where you'll find thousands of pages of resources, including marketing material, clinical studies, treatment videos, and much more.
National Laser Institute has seen our laser tech graduates go on to work in medical spas, salons, dermatology clinics, doctor's offices, OBG YN clinics, and many have even started their own laser business. Certified laser technicians have many careers they can choose from, whether it's full time or part time. The demand for these non-surgical treatments is strong and continues to grow each year.
View some of our attendees success stories with our video below.
Enroll Today
Start your successful certified laser technician career with us today! For more information, you can simply fill out our form on the right or call us at 800.982.6817.