Report: 45 Million Nonsurgical Treatments Researched in 2017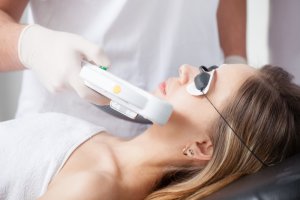 The health and wellness website RealSelf recently reported over 45 million nonsurgical treatments were researched in 2017 — wow!
This is excellent news if you are considering a medical aesthetics career as it means you will be entering a growing profession in a growing industry.
Medical Aesthetics: A Thriving Industry
It's no secret the health and beauty industry is BOOMING! Earlier this year, the American Society of Plastic Surgeons (ASPS) recently released its 2017 statistics for cosmetic treatments. The organization found that the top treatments last year were:
Botulinum toxin Type A (Botox) – 7,230,967 treatments

Soft tissue fillers – 2,691,265

Chemical peels – 1,376,703

Laser hair removal – 1,086,830
The ASPS also reported that over 15.7 million cosmetic procedures were performed in the last year, a 2 percent increase since 2016 and a whopping 186 percent increase since 2000!
Why Are Nonsurgical Treatments on the Rise?
There are a few reasons why treatments like Botox, fillers and laser hair removal are on the rise. Here are the top four:
More "fun money."

Today, we have

more disposable income

then we had in the past, so we are spending this extra cash on things like health and beauty treatments.
An aging population.

Baby boomers

make up nearly half

of the clientele for medical aesthetics treatments. Botox, laser hair removal and skin tightening are a quick fix when it comes to looking young and beautiful.
Laser technology advancements.

As with any industry, the more experience and time you have, the more you can perfect your product or service. As more information is learned about laser technology, the better these treatments become.

Increase in beauty consciousness.

Social media, television and magazines have placed higher

importance on beauty standards and looking good

. Clients are frequently requesting fuller lips, contoured figures and a glowing appearance because celebrities are sharing perfect photos.
Jump-start Your Medical Aesthetics Career with National Laser Institute
Are you ready for a career change? Consider the world of medical aesthetics! Now is the perfect time to learn some of the most in-demand laser treatments with medical aesthetics training from National Laser Institute.
In just two weeks, you can begin working in this $16 billion industry!
If you are looking for the ultimate learning experience, our Comprehensive Laser Course provides classroom education and clinical hands-on training in a medical spa environment.
The first half of the course is spent in the classroom where you will learn things like laser biophysics, hair and skin anatomy, tissue interaction, the ABC's of laser, Fitzpatrick Scale, client selection and more!
The rest of the course is spent doing clinical hands-on training in a medical spa environment. Here, you will watch comprehensive laser demonstrations no more than a foot from the training bed. And you will administer a variety of cosmetic procedures on clients we schedule for you!
By the end of the course, you will feel comfortable and confident performing treatments like:
Laser hair removal

Intense Pulsed Light (IPL) photo facial

Acne reduction

Laser tattoo removal

Laser spider vein reduction

Cellulite and fat reduction

Non-surgical body contouring (CoolSculpting)

Radiofrequency skin tightening

And more!
If you would like to learn more about medical aesthetics training at National Laser Institute, fill out the form on your right or give one of our Admissions Advisors a call at 800-982-6817.