Esthetician License
If you're looking into gaining your esthetician license, you're looking at 6 – 12 months of esthetician school. Once you finish, you're eligible to perform epidermal skin treatments like facials, waxing, peels, and more. But because technology has come a long way, many people are opting for cosmetic laser treatments. Some of these laser treatments, like laser hair removal or laser tattoo removal, even provide permanent results after a series of sessions.
Those who perform laser treatments tend to make more, too. This makes sense if you think about it. Laser hair removal sessions can go anywhere from $50-$150+ depending on the size of the treatment area whereas clients may typically pay $15 for an eyebrow wax.
Laser hair removal and photo skin rejuvenation are two of the top nonsurgical cosmetic treatments performed in the United States. Laser treatments are highly in demand. In many states, you don't have to be an esthetician in order to enroll in a laser training course. In fact, laser training only takes two weeks to become certified. Many people who are looking into esthetician school tend to attend laser school before esthetician school so they have a wide range of skills to offer clients.
Certification at National Laser Institute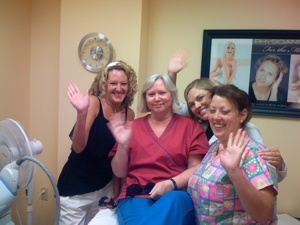 Gain cosmetic laser certification before or after you receive your esthetician license with National Laser Institute. NLI provides a comprehensive, hands-on laser training course that teaches you all the leading, in-demand cosmetic laser treatments including laser hair removal, IPL photofacial skin rejuvenation, radiofrequency skin tightening, laser tattoo removal, cellulite reduction, laser stretch mark removal, and many more.
Our comprehensive laser training course is led by expert laser technicians and medical esthetic experts who've been in this field for many years. We hold a strong focus on laser safety training. The hands-on portion of class gives students the opportunity to perform these treatments in a retail medical spa environment while treating scheduled clients under instructor supervision. Attendees will learn how to perform proper laser techniques, master laser equipment and settings, and provide safe and effective treatments.
This course also includes thorough instruction regarding the Fitzpatrick scale, facial aesthetics, skin and tissue physiology, safety training, client selection, proper protocols, risks and benefits, and much more.
Laser Technicians Named Hottest Career Choice
Good Morning Arizona named laser technicians as one of the hottest career choices for individuals looking to make a change. Watch our segment below to see why this is such an in-demand industry!
Learn more about National Laser Institute or our laser training courses by simply filling out the form on your right or by calling 800.982.6817
Learn More