Medical Aesthetic Procedures Tops $16 Billion in 2016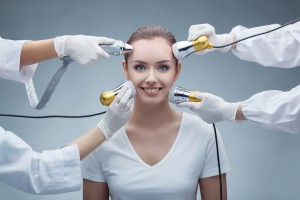 The medical aesthetics field is a booming industry with no signs of slowing down anytime soon. In a new report published in April, the American Society of Plastic Surgeons (ASPS) revealed that Americans spent more than $16 billion on cosmetic plastic surgery and minimally-invasive procedures in 2016.
Can you guess which medical aesthetic procedures made the top of the list? If Botox or laser hair removal came to mind, you are on the right track! Here are the top five treatments:
Botox (7 million procedures)
Soft tissue fillers (2.6 million procedures)
Chemical peel (1.3 million procedures)
Laser hair removal (1.1 million procedures)
Microdermabrasion (775,014 procedures)
From 2000 to 2016, the number of cosmetic minimally invasive procedures increased by 180 percent! And Botulinum Toxin Type A (Botox, Dysport and Xeomin), the No. 1 treatment, is up 4 percent from last year and 797 percent since 2000.
A Career in Medical Aesthetics
If you have ever dreamed of having a career in the medical aesthetics field, National Laser Institute is the place for you! We offer many course options to help you achieve your learning goals, and the courses can be completed in as little as 1 to 2 weeks!
We offer CME courses for medical professionals interested in Botox, dermal fillers, PRP and other injectables. Our cosmetic laser courses are geared towards anyone looking to learn laser hair removal, tattoo removal and other cosmetic laser procedures. Students in both courses will have in-class and hands-on training in an educational setting. With training from the National Laser Institute, students are prepared to work with lasers in any type of medical aesthetics setting, including med spas and doctors' offices.
If you would like to learn more about our CME or cosmetic laser courses, please give us a call at 800-982-6817, and one of our admissions advisors will be happy to discuss our current course options!