Laser Classes for Estheticians
Estheticians are professional skin care specialists that work to help improve skin issues with cosmetic treatments. Some service estheticians may provide are chemical peels, microdermabrasion, facials, waxing, and more. These treatments are limited to the epidermal layer of skin.
National Laser Institute offers laser classes for estheticians looking to expand services they provide. In many states, such as Texas or Arizona, estheticians can become trained in laser technologies that they can then offer their own clientele.
Because the medical esthetic industry has continued to grow, more estheticians are seeking laser training. This is a ten BILLION dollar marketplace with over 2,500 medical spas open across the U.S. In fact, laser hair removal and photo skin rejuvenation are two of the top nonsurgical cosmetic treatments.
Laser Classes for Estheticians at National Laser Institute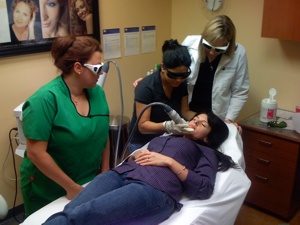 National Laser Institute's laser classes for estheticians include hands-on training with the latest laser technologies. Estheticians will learn from leading medical professionals and laser technicians in this industry.
With NLI's comprehensive laser training course, estheticians learn a variety of in-demand laser treatments. These include laser hair removal, IPL photofacial skin rejuvenation, radiofrequency skin tightening, cellulite reduction, laser stretch mark removal, and many more.
After completing this comprehensive laser course, estheticians will feel confident and prepared to safely and effectively provide treatments to clientele.
Class Objectives
• Laser safety training
• Skin physiology and tissue interactions
• Client selection and consultation
• Laser equipment and settings
• Treating different skin conditions and types
• The Fitzpatrick scale
• Latest laser techniques
• Hands-on training in retail medical spa
• Much more
What Graduates Are Saying
I received my education from National Laser Institute and I wanted to let you guys know that I now have a job at a cosmetic laser center in my home town. I started working there last year in August. It has been a wonderful experience and I LOVE my job. My boss has been impressed with my general knowledge and competency with the lasers. I owe that to National Laser Institute. When people ask me where I went to school for this, I'm always proud to say National Laser Institute. It was such a memorable experience. Now, I am making more money than I thought possible as a new aesthetician. I want to thank you and all the staff at The National Laser Institute for helping me with that.
– Lacy Randall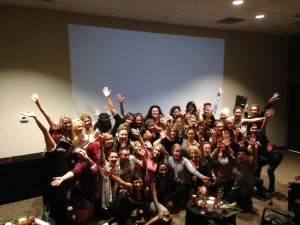 As a former student of the National Laser Institute, I highly recommend this school for anyone interested in laser technology. I am new to the field of esthetics and recently relocated to the Phoenix area. I attempted to find employment as an esthetician but was continuously told I lacked experience. I decided to further my education by becoming laser certified. Within two weeks of completing the courses at the National Laser Institute I found employment as a laser technician and aesthetician. While attending classes at National Laser Institute, I was awed with the organization, knowledge and professionalism of the staff. They go above and beyond in regards to hands-on training, clarifying questions and always ensuring that students are comfortable. The curriculum at National Laser Institute is phenomenal with a huge emphasis on laser safety. Learning the proper laser skill set is one thing, but it's equally important to learn how to grow our own business and not depend upon others. The instructor was a marketing guru who had been wildly successful marketing beauty over the years and owned a medical spa. I also liked the variety of instructors at National Laser Institute. Students can expect to hear from dermatologists, nurses, laser representatives, entrepreneurs, and a laser safety officer. I feel I owe my career to National Laser Institute and I will be forever grateful!
-Merilee Cook
I came to NLI directly out of esthetics school and with no job lined up after. I knew virtually nothing about lasers in the area of skin care but knew that it was what I wanted to do and that I wanted the best education available. After researching several different schools across the USA, I made my decision to go to NLI. All the staff, teachers, laser reps and guest speakers were professional, pleasant and very helpful. The teachers were all far beyond qualified to be teaching and had years of experience in the field of laser esthetics as well. I was very impressed with how available they made themselves for questions and even offered their help for after we left NLI and were out on our own. There is no doubt that NLI is committed to the success of their students.
– Mary Ellen Genstler BBA, CLT, LMT, Esthetician
Learn More
Laser Hair Removal Certification