Laser Esthetician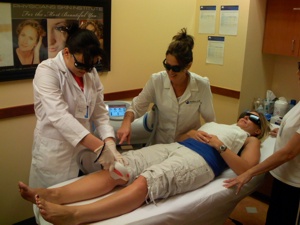 A laser esthetician is a skin care specialist who, on top of performing facials, peels, and other esthetic treatments can also perform cosmetic laser treatments. These include highly in-demand services like laser hair removal, laser tattoo removal, IPL photofacial skin rejuvenation, radiofrequency skin tightening, and more.
You can find a laser esthetician working at a medical spa, dermatology clinic, doctors office, or anywhere that offers cosmetic laser services. Whereas a typical eyebrow wax can cost anywhere from $10 – $20 dollars, cosmetic laser hair removal typically costs between $50 – $100 per area. And because clients need multiple treatments to see results, you'll have the opportunity to build client relationships and introduce them to other advanced laser treatments.
Someone who is a laser esthetician thrives in the health and beauty environment and loves interacting with clients. Laser estheticians love being around people and work either part time or full time.
Laser Training with National Laser Institute
In order to become a laser esthetician, you must first attend a laser school. National Laser Institute is the leading cosmetic laser school in the nation, offer hands-on laser training courses. Our comprehensive laser training course offers estheticians, cosmetologists, and those looking for a career in the health and beauty industry how to become a laser esthetician! You will learn a variety of cosmetic laser services and in as little as two weeks, you will be prepared to go out and treat your own clientele.
National Laser Institute shines a huge focus on laser safety, and we do offer laser safety officer certification. Students will gain a thorough understanding of laser techniques, protocols, and safety elements when working with different types of cosmetic lasers.
Laser careers are hot right now! Watch our short news segment to see why health and beauty lovers want to receive laser training!
Classes are taught by leading medical esthetic experts in the field! To learn more about becoming a laser esthetician or courses at National Laser Institute, simply fill out our form on the right or call 800.982.6817.