Laser Hair Removal School Dallas
If you've been thinking about laser hair removal school Dallas, you've come to the right place. We have been in the medical aesthetics business for over a decade, and our well-established reputation speaks volumes for us. Though laser hair and tattoo removal continue as in-demand services, today's client also wants the benefits of the latest wrinkle-fighting and anti-aging technology.
The medical aesthetics industry is a billion dollar industry with laser hair removal in the ranks as a top nonsurgical cosmetic treatment. Just last year, there were about 1 million laser hair removal treatments performed in the U.S. alone. The demand is off the charts with consumers wanting permanent results for unwanted hair.
Are you prepared to offer your clients the services they're asking for?
Why Laser Hair Removal School Dallas?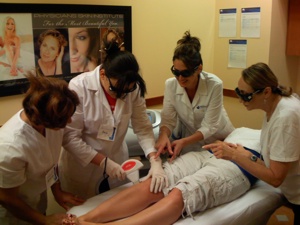 At National Laser Institute, we're not only a premier laser hair school Dallas; we also train our students in all the latest cosmetic modalities to ensure they are positioned as highly respected job candidates who will bring value to their prospective employers.
Students at National Laser Institute receive classroom and hands-on training in IPL photofacial skin rejuvenation, Fractional laser wrinkle reduction, radiofrequency skin tightening, stretch mark removal and ultrasound fat reduction, chemical peels and more. And what if we told you that you could be fully certified and ready to start you exciting new career in just two weeks? We offer 100% financing to qualified applicants, and are here to answer all of your questions!
If you aren't located near the Dallas area, we also offer classes in Scottsdale, Chicago, and other major U.S. cities—including night classes. Please call us to today at 1-800-982-6817 to learn more about laser hair removal school Dallas.
Read more information on:
Laser Hair Removal Certification