Laser Hair Removal Training Schools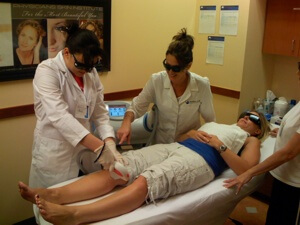 There are many laser hair removal trainings schools across the nation, but National Laser Institute has them all beat. As the leading laser school in the nation, NLI has been around for over a decade and was the first to pioneer the cosmetic laser training curriculum. As far as cosmetic laser schools go, we are the experts.
Laser hair removal training should focus on three important objectives: classroom education, laser safety, and clinical training. With our laser hair removal training classes, it all starts in the classroom. Courses are taught and led by the nation's leading experts in this field. You don't learn from just one teacher, but several instructors throughout your educational journey.
Laser safety is covered thoroughly, as it's important to understand the settings, functionalities, and in-depth knowledge of each laser that you are using. We provide you with state-of-the-art laser technology so you can learn from the most advanced equipment. If you've never fired a laser, you have no reason to be nervous. Our instructors cover even the finest of details before the laser is in your hand, and by that time you'll feel comfortable and confident to begin using it.
Finally, you learn within a medical spa setting practicing laser hair removal treatments on real clients. After learning everything you need to know in the classroom, your education continues in the spa. The instructors are there by your side every step of the way, and we even film you performing treatments so you can see your techniques and how they can be improved!
What does our laser hair removal training course cover?
• Laser safety
• Tissue interaction
• Biophysics
• Laser equipment settings and functions
• Client selection
• Pre and post treatment care
• Techniques
• + Much more
Your Choice of Laser Hair Removal Training Schools

We know you have your choice of laser hair removal training schools, but we hope you find our leading, hands-on courses capable of meeting your educational needs. We like to keep our class sizes small so students can work closely with the instructors, so seating does fill up quickly. If you're interested in learning more about laser hair removal schools or National Laser Institute, simply fill out the form on your right or call us at 800.982.6817.
Night classes
National Laser Institute also offers laser hair removal night classes. These classes are Monday – Friday from 6-10pm. Learn more by filling out our form on the right or by checking out our night class schedule for future dates.