Laser Hair Training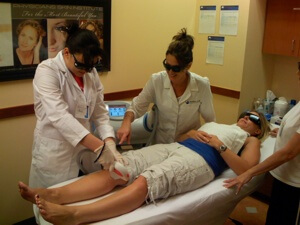 Laser hair training certifies aestheticians, medical professionals, cosmetologists, career changers, and others interested in learning cosmetic laser technology. Unlike other trade schools, obtaining your laser certification only takes an average of two weeks. You must attend a cosmetic laser school in order to receive training and certification. Not only will you learn the skills you need to perform laser hair removal, but you will also learn how to perform many of today's top laser treatments.
The cosmetic laser industry has been booming for the last decade. In 2013, there were over 1 million laser hair removal treatments performed just in the United States alone, according to the ASAPS. Photo rejuvenation, like IPL photofacial skin rejuvenation, is another top treatment that experienced a 35% increase throughout 2013.
More clients are interested in these treatments because they provide longer-lasting or even permanent results without downtime or surgery. Although they are paying a higher price point for these treatments than they would with waxing or facials, it is worth it to them to see far better results.
As a laser technician, you have multiple career opportunities open to you. Many laser technicians work in medical spas, dermatology clinics, OBGYN practices, doctor's offices, health clinics, or even open up their own laser center.
If laser hair training interests you and you are considering becoming a laser technician, then it's time to check out National Laser Institute.
Laser Hair Training Courses with NLI
National Laser Institute was the first laser school to establish the cosmetic laser training curriculum and has been around for over a decade. Known as the Harvard of laser schools, National Laser Institute is dedicated to offering students courses where they learn the most advanced techniques, gain hands-on training with the latest technologies, and learn from the leading experts in the field of medical aesthetics.
The two-week cosmetic laser course is ideal for those who want to not only learn laser hair training, but a variety of other in-demand services. These services include IPL photofacial skin rejuvenation, radiofrequency wrinkle reduction, laser stretch mark reduction, cellulite reduction, laser acne treatments, and much more.
What are students saying about the NLI experience? Check out our video testimonial below!
Hands-on training is combined with classroom education to give students opportunities to learn both inside and outside the classroom. Students will practice the techniques they've learned on scheduled clients within a luxury medical spa facility using state-of-the-art technology and equipment.
If you'd like to learn more about laser hair training or National Laser Institute's courses, simply fill out the form on your right or call 800.982.6817.
Learn more:
Laser Hair Removal Certification