Laser Schools in Arizona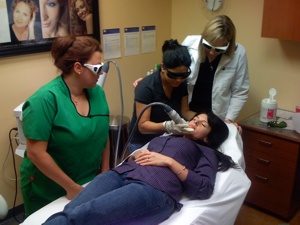 If you're searching for laser schools in Arizona, there's no doubt you've heard of National Laser Institute. We're the leading medical aesthetics training facility in the Grand Canyon State, and the largest laser school in the country. But as they say, size isn't everything. That's why we've worked hard to establish and maintain our reputation as one of the best laser schools anywhere.
Employers take note when you tell them you an National Laser Institute graduate. Our standards for laser safety and educational excellence are well-known within the medical aesthetics industry. We strive to make NLI not only a premier laser schools in Arizona but also a fun and exciting place to be. In fact, many of our laser technicians and classroom trainers are graduates of National Laser Institute—they didn't want to leave!
Why is NLI the Best Choice for Laser Schools in Arizona?
We'll answer that question best by giving you a sneak peak of what we teach in our 14-Day Comprehensive Laser Course, our most popular curriculum:
• Laser Physics
• Tissue Interaction
• Tattoo Removal
• Radiofrequency Skin Tightening
• Fractional Wrinkle Reduction
• Vein Reduction
• Microdermabrasion
• Chemical Peels
• And so much more!
We'll also teach you all about marketing in the industry, growing or enhancing a medical esthetics practice and improving communication skills with clients.
When you graduate from National Laser Institute, you'll posses the knowledge, confidence and ability to immediately get started in the exciting field of medical esthetics. We offer students access to our Graduate Services Department, which provides between 200-500 job leads to graduates each month. We also provide access to our online medical aesthetics library which holds thousands of pages of resources, including marketing materials, clinical studies, equipment information, and more.
To see what students are saying about National Laser Institute, watch our short video below!
You won't find a better value in laser schools in Arizona, or anywhere else. Call us today at 1-800-982-6817 or fill out the form to the right.
Read more information on:
Laser Hair Removal Certification