Laser Schools in Dallas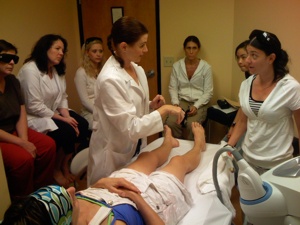 If you're looking for the best laser schools in Dallas, look no further than National Laser Institute. Laser schools like National Laser Institute train attendees to become certified laser technicians. If you enjoy helping others look and feel beautiful or enjoy working with people and building personal relationships, then a career in the quickly growing medical aesthetics industry could be right for you.
We offer the very latest in medical aesthetics training including laser hair removal, tattoo removal, cellulite reduction and skin rejuvenation. Whether you're completely new to the beauty industry or an experienced aesthetician, nurse, doctor or PA searching for ways to expand your professional services. We are one of the leading laser schools in Dallas with a nationally respected reputation and students from all over the world.
Laser Schools in Dallas—what should I look for?
We pride ourselves on accommodating our individual students' needs. Some require financing; others come to us from out-of-state and need help arranging hotel and other services. Whatever your needs, just let us know. We are here to help you and want your educational experience to be a positive one from the very beginning.
Just think—in only two weeks' time you could be a fully trained and certified laser technician in the booming medical aesthetics field. Call us today at 1-800-982-6817 about laser schools in Dallas, Arizona, Chicago, Boston and other locations, or simply fill out the form to the right.
We are a nationally recognized provider of quality education and laser safety training, and we're here to answer all of your questions. Call us today at 1-800-982-6817 or fill out the form to the right.
National Laser Institute Dallas

Dallas, Texas Campus
3850 W. Northwest Highway
Suite #1100
Dallas, TX 75220
1-800-982-6817
View Google Map Directions
What Students Are Saying
See what students are saying about National Laser Institute by watching our short video below!
Read more information on:
Laser Hair Removal Certification