Medical Aesthetics Nurse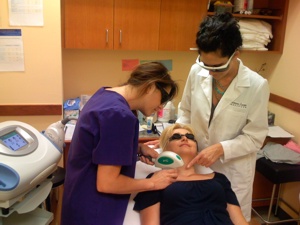 A medical aesthetics nurse is someone who is certified to perform a variety of facial esthetics and anti-aging treatments in a cosmetic, nonsurgical fashion. Some of these services include Botox, laser hair removal, dermal fillers, radiofrequency skin rejuvenation, and much more. The medical aesthetics industry has experienced a huge growth over the last decade, and many nurses have taken advantage of it.
A medical aesthetics nurse participates in facial esthetics diagnosis, performs consultations, and safely administers noninvasive cosmetic treatments to clients. Because nurses are qualified to receive injection training, they can also perform cosmetic injectable treatments like Botox, dermal fillers, and sclerotherapy. A medical aesthetics nurse can work at a medical spa, dermatology clinic, doctor's office, private practice, or open her own medical aesthetic business in order to offer these services.
A nurse who wishes to become medical aesthetic nurse will need to have earned certification from an accredited school. Luckily this doesn't take more than a few weeks. Schools like National Laser Institute also offer CE credits upon course completion.
Medical aesthetics nurses offer cosmetic, noninvasive treatments, which means there isn't the hassle of insurance reimbursement. Treatments like Botox average about $500 per client while laser hair removal complete sessions can average to thousands of dollars per client. Botox, dermal fillers, and laser hair removal are some of the top nonsurgical cosmetic treatments performed in the United States. It's no wonder why so many nurses want to capitalize on this industry.
Medical Aesthetics Nurse Training with National Laser Institute
Ready to become a medical aesthetics nurse? National Laser Institute offers cosmetic medicine and laser training courses for nurses who want to learn a variety of these in-demand treatments. Training takes place both in the classroom and through clinical, hands-on training in our medical spa. Nurses learn from leading experts in this field. By the end of our courses, nurses will feel ready to step into the world of medical aesthetics.
To learn more about medical aesthetics or courses at National Laser Institute, simply fill out our form on your right or call 800.982.6817.