Medical Esthetician Training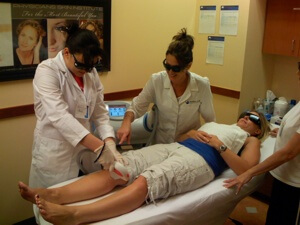 If you have a passion for working with people and enjoy the health and beauty environment, then the world of medical esthetics may be for you. Medical esthetician training takes a deeper look within the industry of skin treatments, using cosmetic laser technology to help correct and restore youth and improved appearance within the skin.
Unlike estheticians, medical estheticians are certified to perform treatments such as laser hair removal, photofacials, laser wrinkle reduction, laser stretch mark removal, laser acne reduction, and more. Estheticians can only practice with the epidermal layers of skin, whereas medical estheticians can treat both the dermal and epidermal layers.
The courses at National Laser Institute provide students with the unparalleled medical esthetician training to start working within the industry. These medical esthetician training courses meet state requirements and provide proper certification to those who finish the program through graduation. Esthetician school may take up to 6 months to complete, but our longest course is our comprehensive laser training class, which can be completed in a two week time period.
Medical Esthetician Income and Career Opportunities
The top questions we receive the most often are what kind of income to medical estheticians make and what are some of the career opportunities?
As far as income goes, there are many different types of salaries medical estheticians can make. As a school, we've seen graduates make an hourly base between $15-$25. This may or may not include commission. Some places hire only on commission. Salary is not that common, but there are some places who do pay at a salary range. As with any job, your pay rank does depend on your experience!
There are also many career opportunities for medical estheticians as well. We've seen graduates go on to work for dermatology clinics, doctor's offices, medical spas, salons, or even start their own business. Some have even gone to OBGYN clinics and health care facilities and asked if they'd like to hire on a laser technician, and they've gotten the position! Being a medical esthetician is extremely versatile.
Our Comprehensive Medical Esthetician Training Program
Aspiring medical estheticians often choose to take our comprehensive laser training course because it provides them with hands-on training with many of today's top cosmetic laser treatments. Combined with this clinical training is our classroom portion where medical esthetic and medical professional experts within this industry teach you laser safety, aesthetic overview, treatment history, client consultations, laser techniques, and much more. We believe this educational opportunity provides students with comprehensive, quality education they'll need to succeed in the industry.
National Laser Institute pioneered the laser training curriculum that many laser schools across the nation use, and we are also recognized as gold standard education. We train students from across the globe each month and provide you with materials post-graduation, such as access to the largest medical esthetics online library and our graduate services department.
If you'd like to learn more about medical esthetics school or National Laser Institute, please call 800.982.6817.