School for Laser Hair Removal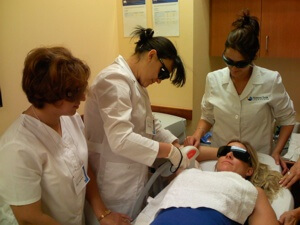 Attending a school for laser hair removal is easier than you think. In most states, you do not have to be a medical professional to attend a laser training school. Depending on your state's regulations, all you need is your high school diploma or GED. You don't need to have previously attended aesthetician school or cosmetology school either. In fact, aestheticians and cosmetologists find themselves enrolling in schools for laser hair removal to broaden their skills in the anti-aging industry.
Going to a school for laser hair removal can also provide you with the knowledge to go out and gain employment in a variety of different career fields. Laser technicians work in medical spas, salons, dermatology clinics, healthcare facilities, doctor's offices, family practices, OBGYN clinics, and have even gone and opened their own laser clinics.
The demand for cosmetic lasers has increased in the last several years. In the past, people turned to waxing or shaving for unwanted hair removal. But with advanced technology that is capable of permanently removing hair, clients are more willing to spend money to see long-term results. In fact, there were over 1 million laser hair removal treatments performed in 2013, according to the ASAPS, making it one of the top nonsurgical services performed in the U.S.
National Laser Institute: A School for Laser Hair Removal
National Laser Institute was the first laser training school in the nation to create a laser school curriculum. We have been around for over a decade and offer a variety of laser courses.
You can find laser hair removal training within our comprehensive laser course, which not only covers laser hair removal, but a variety of popular cosmetic services including IPL photofacial skin rejuvenation, radiofrequency skin tightening, laser tattoo removal, acne reduction, laser stretch mark removal, cellulite reduction, and many more.
Our courses are taught by leading experts in the field. On top of classroom education, we also provide clinical hands-on training with scheduled clients within our luxury medical spa environment. This is so attendees can learn real world experience that prepares them for treating clients of their own!
This comprehensive course can be complete in two weeks time. However, we do offer night classes for those whose schedule and priorities allow them for an opening in the evening hours.
Night Classes
National Laser Institute's night classes take place Monday – Friday from 6 – 10 PM.
Learn more by viewing our night class schedule for openings. Act fast, because these classes fill up quickly.
Graduate Services
Graduates of National Laser Institute receive access to our Graduate Services Department, which provides you with 100-200 job leads each month to help aid in your career search. This department is also available to you to help answer any questions or concerns you have at any time. You also gain access to our online medical aesthetic library, which contains thousands of pages of resources at your very fingertips.
Webinar
For those still considering a school for laser hair removal, you can view our free, live webinar we host each month! Our webinars cover careers, live demonstrations with advanced laser equipment, has a live Q&A, and features Louis Silberman, President of National Laser Institute, and a variety of industry experts.
View our webinar schedule and sign up for our next cosmetic laser webinar! You can also view our sneak peek webinar video below.
Read for more information:
Laser Hair Removal Certification