Sclerotherapy Certification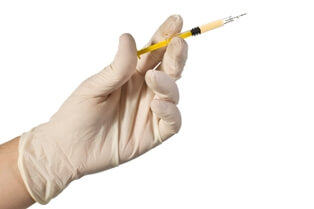 Medical professionals who want to expand their range of services can benefit from sclerotherapy certification. Sclerotherapy is the process of eliminating unwanted spider veins from different areas of the skin using a safe cosmetic injectable solution. It is a cosmetic treatment designed to safely collapse these veins so they safely disappear and leave clients with flawless skin.
More than 80 million people in America suffer from venous disease. Sclerotherapy is FDA approved to help remove unwanted spider veins, but this cosmetic injection must be performed doctors, nurses, physician sssistants, or other qualified medical professionals who have been trained on the delivery, preparation, and dilution of sclerosing agents.
National Laser Institute is the leading cosmetic medicine school in the nation and offers sclerotherapy certification for medical professionals. On top of learning the latest injection techniques and safety protocols, you will also receive hands-on training in our luxury medical spa environment.
Sclerotherapy Certification
Ready to earn your sclerotherapy certification? You can in as little as a weekend with National Laser Institute. Led by leading medical professional experts, sclerotherapy training teaches you how to distinguish cosmetic versus venous disease, safe administration techniques, epidemiology, development, and classification of venous insufficiency, types of sclerosants, preparation, and dilution of sclerosing agents and so much more.
Learn more about sclerotherapy certification and training by filling out our form on the right or by calling 800.982.6817.