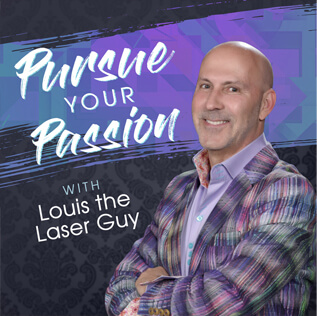 Podcast: Pursue Your Passion
With Medical Aesthetics
Hi, I'm Louis the Laser Guy! Welcome to my podcast Pursue Your Passion! I'm on a mission to discover how estheticians, nurses, physicians, and complete career changers are living their dream in the booming industry of medical aesthetics! Each week we'll dive into this life-changing industry and discover the story behind the people who work in it. If you're interested in getting into the medical aesthetic industry then be sure to tune in each week and check out our website for more information at https://nationallaserinstitute.com!
Most Recent Episodes
Aesthetician & Career Changers
January 20, 2020
From beautifying glass to beautifying faces: Debbie's career journey
In today's episode, we have Debbie on the podcast. Debbie went from being a welder/glassblower to taking her skills with heat to laser cosmetics. Join us as we talk with her about her journey into cosmetic lasers and her experience with treatments such as photofacial, skin rejuvenation, skin tightening, coolsculpting, and laser hair removal. If you're interested in becoming a laser technician check out our comprehensive cosmetic laser program at https://nationallaserinstitute.com/
January 09, 2020
Prior Stay at home mom does 80,000 laser tattoo removals!
Are you interested in a career in the medical aesthetics field? Today we have Shelley, a tattoo removal technician, on the podcast. She went from being a stay at home mom to doing around 80,000 laser tattoo removals so far in her career as a laser tattoo technician. She wakes up every day loving what she does! If you want to know more about how to become a tattoo removal technician or providing services like laser hair removal, photofacial skin rejuvenation, skin tightening, Coolsculpting and more, then check out our cosmetic laser technician school at www.nationallaserinstitute.com and take a look at our tattoo removal training! You'll be on your way to your dream career in no time!
Medical Professionals
ROUND TABLE