How To Choose The Best Medical Aesthetics School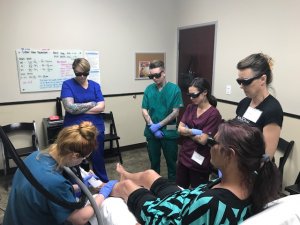 Selecting the right school is one of the most important decisions you will make for your future. Like choosing any other post-secondary school or institute of higher education, deciding which medical aesthetic school is right for you and your needs is based on several important factors, including classroom size, type of training, overall student morale and much more.
It's important to be informed and do your research when it comes time to pick which school to attend. To help you during that process, here are some tips to help you choose the best medical aesthetic school!
The Type of Training Offered
When it comes to education, you want to find a program that combines theory and hands-on learning. It's important to have strong background knowledge of facial anatomy and how treatments interact with the body to fully understand how procedures like laser hair removal work. That's why you should consider a medical aesthetics school that takes the time to provide students with an in-depth and detailed classroom education and hands-on training. You want to feel comfortable operating equipment and treating patients.
At National Laser Institute, we offer didactic and clinical hands-on training in a luxury medical spa setting. Our expert instructors spend five days preparing you for the hands-on training you'll receive. In the classroom, you will learn things like facial anatomy, the history of different treatments, and pre- and post-patient care.
During your hands-on training, you will treat a large variety of scheduled clients to gain real world experience. The classroom is broken up into to small groups – five students per instructor. You will watch comprehensive demonstrations and your peers perform treatments. You will perform treatments yourself with the instructor by your side to answer any questions.
Opportunities for Graduates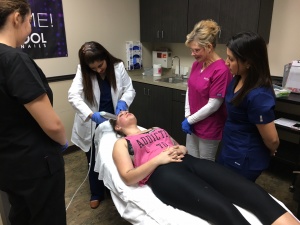 During your research, you should take note of the schools that have a Graduate Services Department.
From the moment you step on campus, you will have access to NLI's Graduate Services Department. Our knowledgeable staff is here to set students up for success after they graduate by providing resume help and job leads. Our team works around the clock to send out 200-500 job leads a month to our alumni!
Once you graduate, you will receive access to our online medical aesthetic library, which has tons of information about the medical aesthetics field, including statistics, books and articles, equipment information, marketing resources and much more!
School Accreditation
During your research phase, it's important to note the type of accreditation and licensing each school has to ensure the best education and training experience possible. Attending an accredited school will provide you with the academic and practical knowledge you need to perform your future position properly and to the highest standard of excellence. These should be readily available on each school's website.
National Laser Institute has accreditations and licensing from the Arizona Board of Private Post-Secondary Education, the Arizona Radiation Regulatory Agency, the American Academy of Family Physicians, the Western Multi-State Division, the Texas Department of State Health Services and the Texas Workforce Commission among others.
Experiences From Alumni
Another factor to consider is what past students are saying. Alumni not only have first-hand experience with the programs, but their experiences also help prospective students have a good idea about the types of careers they can expect post-grad.
We teach thousands of students each year to become cosmetic laser technicians, and we love to hear their success stories and share them with you! We've created a testimonial page with hundreds of student testimonials for prospective students to browse. You should do your research, ask around and find out what the buzz is for each school.
Jump Start Your Career With National Laser Institute
The medical aesthetics industry is the perfect field if you have a passion for helping others look and feel their best. National Laser Institute offers comprehensive courses for cosmetic lasers for total career changers or aestheticians as well as programs for doctors, nurses and other medical professionals that can be completed in just 1-2 weeks!
The comprehensive laser course covers the most in-demand treatments such as laser hair removal, IPL photofacial, skin rejuvenation and skin tightening. Our CME programs offer training in injectables like Botox, dermal fillers, Kybella and platelet rich plasma (PRP).
We are the only course in the county that offers a marketing and career advancement seminar taught by Founder and CEO Louis Silberman. You will learn how to build your business as an employee, independent contractor or business owner.
To learn more about National Laser Institute's cosmetic laser or CME courses, please fill out the form on the right or give us a call at 800-982-6817.