How Is IPL Different From Laser?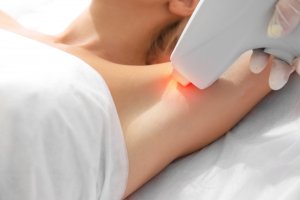 Intense Pulsed Light (IPL) and laser hair removal are two of the most popular light-based treatments.
As a cosmetic laser tech, it is essential to know the difference between these two procedures, so that you can explain which option is best for your clients.
How Is IPL Different From Laser?
The main difference between IPL and laser hair removal is the light source used. An IPL treatment utilizes broad-spectrum visible light while laser hair removal requires one specific wavelength. 
Professional laser treatments are more selective and therefore focuses on the hair follicles rather than surrounding skin. Both modalities, however, work on the same principle. Light energy is absorbed by areas of high pigment such as hair follicles. The heat damages the follicle and slows hair growth.
How IPL Hair Removal Works
Intense Pulsed Light (IPL) uses broad-spectrum, visible light administered by a handheld device that is designed to target the melanin pigment in the hairs. 
What makes IPL an ideal treatment to incorporate into a medical spa business is it has several uses that can address numerous skin conditions. Since IPL hair removal utilizes a broad-spectrum light, the handheld device can treat a greater area, which reduces treatment times.
Cosmetic laser technicians may use IPL to treat:
Acne.

IPL provokes a photoreaction in the skin to reduce the appearance of acne.

Aging.

To decrease the appearance of wrinkles and reduce pores, IPL is used to stimulate the production of collagen and elastin.

Hyperpigmentation.

Absorption of light by pigments in the skin can be transformed into heat without damaging the skin.

Vascular issues.

IPL can address vascular issues by solidifying blood and pigment spots by decreasing melanocytes.
How Laser Hair Removal Works
Laser hair removal uses the specific properties that lasers possess. Lasers can focus on a small area and travel a significant distance without spreading out like IPL does. This concentrated blast of light can be more specific in the treatment it gives.
Since laser hair removal produces concentrated beams of light, it can achieve much quicker results than IPL. Being more specific also means this cosmetic treatment can be more suited to people who have darker skin. 
IPL & Hair Removal Training at National Laser Institute
Are you looking for a career opportunity you will love waking up to every day? Consider becoming a cosmetic laser tech in the $16 billion medical aesthetics industry!
At National Laser Institute, we offer cosmetic laser training that can be completed in as little as two weeks. 
Our Comprehensive Laser Course is the most popular among students as it combines didactic theory and clinical hands-on training for the ultimate learning experience.
The first half of your training will be spent in the classroom where you will learn things like facial anatomy, tissue interaction and patient care.
The remaining days will be spent in clinicals where you will watch live cosmetic laser demonstrations and perform treatments on real clients to gain real-world experience. You will learn treatments like laser hair removal, tattoo removal, IPL photofacial, acne reduction, radiofrequency skin tightening and more!
By the end of the course, you will feel comfortable and confident performing laser treatments for any skin type in a variety of settings, including medical spas and physician's offices.
To learn more about medical aesthetics training, fill out the form on your right or give us a call at 800-982-6817.