Medical Esthetics Training in Dallas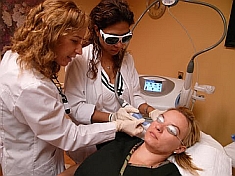 The trend of medical esthetics has been growing throughout the last decade with cosmetic laser and injectable treatments that have become increasingly popular each year. With baby boomers ready to achieve more youthful skin and clients who want to maintain healthy skin or rid skin imperfects, medical esthetic treatments are the perfect way to go.
Before you can even begin offering laser and injectable treatments to clients, you need to undergo medical esthetics training. Luckily National Laser Institute has two U.S. campus' in Dallas as well as in Scottsdale, AZ where we offer hands-on medical esthetics training to medical professionals, estheticians, health and beauty experts, and career changers.
Medical Esthetician School vs Esthetician School
One of the most frequently asked questions we receive regarding medical esthetics training is what's the difference between medical esthetician school and esthetician school? The short answer is that esthetician school takes months versus the two weeks that medical esthetician school takes. Also, estheticians study surface skin treatments, like facials, tweezing, waxing, body wraps, and more. Medical estheticians learn about cosmetic laser treatments and, if qualified, can study cosmetic injectable treatments as well.
Texas State Regulations for Medical Esthetics Training
If you want to become a medical esthetician in Dallas, you must have earned you high school diploma or GED before enrolling in a medical esthetician school. If receiving a laser training education, you must take a laser safety course as well as acquire the appropriate amount of hands-on clinical time within the training environment.
Medical Esthetician Certification
In the state of Texas, only medical professionals can receive cosmetic injectable training and enroll in our Botox injection training and dermal filler training courses. However, you do not necessarily need to be in the healthy and beauty industry to become a laser technician. Career changers, estheticians, beauty lovers, and more can enroll in our comprehensive laser training course to learn all about the most in-demand laser modalities.
In our comprehensive training course, students will learn:
The skills and knowledge you'll need in order to perform IPL and laser procedures
Laser safety training
The skills you need in order to evaluate and diagnose a treatment plan based on your client's skin concerns
Training on advanced, state-of-the-art laser technology
Training with laser hair removal, laser stretch mark removal, IPL photofacial skin rejuvenation, laser acne reduction, laser wrinkle reduction and more
National Laser Institute is recognized as gold standard of education and is the Harvard of laser schools. We were the first laser school to come up with a laser training curriculum that other laser schools use across the nation. We have earned many outstanding reviews as well as an A+ rating from the BBB. To learn more about medical esthetics training or National Laser Institute, please call 800.982.6817.