PRP Facial Training with Microneedling
The National Laser Institute will be offering a 1-Day Microneedling with PRP Facial Training course designed exclusively for medical professionals. This course will commence in January 2016 and will teach you how to topically apply PRP to the skin after a microneedling treatment.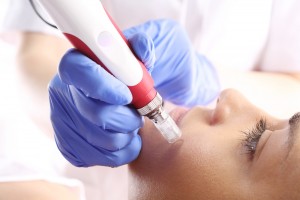 What is Microneedling?
Microneedling is a minimally invasive treatment that uses a handheld device with micro-fine needles to create punctures in the skin to rejuvenate the skin. This triggers the body's wound healing process by stimulating collagen and elastin production. Often, products such as hyaluronic acid and vitamin C are applied topically and can penetrate deeper into the skin to provide a more effective treatment.
Microneedling is also called collagen induction therapy, skin needling and percutaneous collagen induction.
Benefits of Microneedling
This anti-aging treatment is used to treat conditions like fine lines and wrinkles, acne scarring, loose skin, skin texture, pore size, brown spots, stretch marks and pigment issues. Anyone can have a microneedling treatment as long as they don't have any lesions, active infections or have any known wound healing problems.
PRP Facial Training with Microneedling
While microneedling is an effective treatment on its own, the results can be enhanced when paired with Platelet-Rich Plasma (PRP).
Microneedling is a treatment also known as collagen induction therapy. The channels created by the microneedles create a super-absorption conduit for anti-aging products applied to the skin. This potent anti-aging treatment allows the skin to absorb nutrients by 3000% more during the hour after treatment. Imagine, then, how effective it is when paired with platelet-rich plasma (PRP).  
In your training, you will learn how to draw the patient's blood and place it into a centrifuge to separate the patient's PRP for topical application after the microneedling treatment. You will then learn how to use a microneedling device called a micro pen, which gently punctures the skin with its fine needles, causing a controlled injury, or microtraumas to the skin. After you have administered the microneedling treatment, you will apply the patient's own PRP topically to their skin. These growth factors will turbo-boost cell turnover to maximize the benefits of the healing process.
The anti-aging benefits for your patients are numerous:
Collagen and elastin production will increase.

Skin tone will dramatically improve

Hyperpigmentation will be diminished
Patients with fine line and wrinkle concerns will find their skin texture will improve. The skin will be firmer, and stretch marks and acne scars will be diminished. Microneedling with PRP is an especially excellent therapy for melasma patients.  
Generally, three to 6 treatments over one year are a good starting point. We recommend touch up sessions one to two times per year for maintenance.  
The National Laser Institute will be offering a 1-Day Microneedling with PRP Course for medical professionals. You can look forward to training in our luxury medical spa training environment with a small group of students. Hands-on training on real clients will give you the knowledge you need to bring Microneedling with PRP to your practice.
To find out how you can sign up for our Microneedling with PRP Facial Training, fill out the form on the right or call 480-290-7399 and one of our Course Advisors will be happy to assist you.