What Is A Nonsurgical Facelift?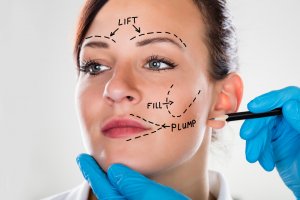 With the range of current aesthetic technologies and procedures available, people don't have to go under the knife to look their best.
Your clients can use a combination of non-surgical treatments to achieve a natural looking facelift without surgery!
Nonsurgical Facelifts Gain Popularity
In 2017, the American Society of Plastic Surgeons (ASPS) reported Americans underwent over 17.5 million cosmetic procedures. This number is up 186 percent since 2000.
While more people are getting work done, they are not always looking to go under the knife. Instead, they are opting for medical aesthetics treatments and procedures that provide results like facelifts without actual surgery.
Minimally invasive (nonsurgical) refers to treatments like facial injectables and laser resurfacing that don't require large incisions or hospitalization. They have little to no downtime which means your clients can be in and out of your office without much discomfort.
What Is A Nonsurgical Facelift?
A nonsurgical facelift includes several different treatments and procedures that aim to address the effects of aging. One of the most common aesthetic treatments clients request is dermal fillers.
Over time, volume loss in the face creates the illusion of sagging skin. Dermal fillers are generally used for the lower third of the face but can be used under the eyes and in the temples. As a cosmetic injector, you can restore this volume, without surgery, in just a few minutes, and your clients will look like they had a facelift.
Another popular treatment used for a nonsurgical facelift is Botox (botulinum toxin). This neurotoxin is injected into the muscle, causing it to temporarily relax. The relaxed muscle can no longer contract and therefore cannot create a wrinkle.
Botox is an effective anti-aging treatment for fine lines and wrinkles that appear:
Between the eyebrows
Forehead creases
Crow's feet around the eyes
And other wrinkles in the upper face.
PDO threads (or thread lift) are the new "it" nonsurgical facelift option. This procedure can be performed in two hours or less and involves inserting thin threads into the face through tiny incisions made in the targeted area.
The threads attach to the skin tissue and are pulled back to lift and smooth the face. The ends of the threads are hidden, and the results of this treatment are seen immediately.
What About Procedures With No Needles?
If your clients are not interested in having needles inserted into their face, there are several treatments available that promote tightening of the skin that promotes skin rejuvenation.
Laser skin resurfacing works to give your clients clearer, younger-looking facial skin by removing each layer of skin with precision. This means as a cosmetic laser tech, you can rid your client's facial skin of scars, wrinkles, acne scars or blotches.
While there are three categories of laser skin resurfacing devices, you will come across fractional lasers and Intense Pulsed Light (IPL) during cosmetic laser training at National Laser Institute.
Fractional lasers break up the laser energy into thousands of tiny beams to treat only a fraction of the skin in a particular area. Fractional lasers can be ablative or non-ablative, and they are used to treat age-related blemishes.
IPL treatments are technically not lasers, but they are used to treat similar concerns as cosmetic lasers such as acne, sun damage, hyperpigmentation and rosacea.
Enter The Medical Aesthetics Field in 2 Weeks With Training From National Laser Institute
Looking for a rewarding career field? Consider the wonderful world of medical aesthetics!
In just two weeks you can enter the working world with training from National Laser Institute.
If you are considering a career as a cosmetic laser tech, our Comprehensive Laser Course is the most popular. During the course, our knowledgeable instructors – with 7 to 20 years of experience in the field – will teach you the most popular laser treatments, including laser hair removal, tattoo removal, wrinkle reduction and more!
The first half of the course is spent in didactic (classroom) training where you will learn things like hair and skin anatomy, tissue interaction, the ABC's of laser and disorders of the skin. During clinicals, you will watch live cosmetic laser demonstrations and perform these treatments on scheduled clients to give you real-world experience.
By the end of the course, you will feel comfortable and confident administering aesthetic treatments for any skin type in a variety of medical aesthetic setting, including medical spas, physician's offices and other medical practices.
We also offer CE/CME courses for physicians, nurses and medical professionals that focus on treatments like Botox, dermal fillers, PDO threads and more!
If you are interested in learning more about our cosmetic laser courses or any of our other courses, please give us a call at 800-982-6817 or fill out the form on your right.