Why Do Men Get Botox & Fillers?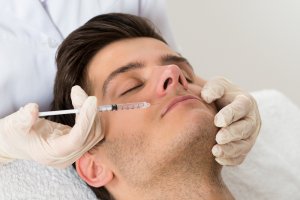 Would it surprise you if we said more men are fighting ageism with Botox and dermal fillers?
New statistics show that there has been a dramatic rise in the number of men getting cosmetic procedures.
In addition to fighting ageism, other motivating factors include social media and having a competitive edge at work. 
Why Do Men Get Botox and Fillers?
There has been a staggering rise in the number of men getting cosmetic procedures. Since 2010, the American Society of Plastic Surgery (ASPS) reported a 20 percent increase in the number of men requesting plastic surgery, with a vast majority opting for minimally invasive procedures like facial fillers to reduce wrinkles and restore lost volume in the face.
The number of men getting Botox has increased nearly 27 percent during the same time span, which has led several media outlets to use the term "Brotox."
While there is no national data on why men choose to get work done, social media plays a significant role. Some physicians suggest the low cost of the procedure is a quick fix for those who spot perceived flaws in their social photos.
The influence of social media is so strong that some plastic surgeons have developed their own procedures to enhance a client's appearance in selfies. 
Even Allergan, the creator of Botox, is betting on Botox for men. The company recently announced that it would be rolling on TV spots targeting male consumers. (Stay tuned for a Botox for men commercial broadcast on a TV screen near you.)
What To Expect From a Botox Procedure
Approximately 10 before a Botox treatment, your cosmetic injector will ask you to avoid medications like aspirin, ibuprofen and vitamin E. This will reduce the chance of bruising after your procedure.
A topical numbing gel will be applied to the area being injected up to 15 minutes prior to your treatment. The number of Botox injections will vary and depend on several factors. Most patients say each injection feels like a small poke. A few hours afterward, the treated area may look red and feel irritated.
Immediately following the treatment, your physician will ask you to make several facial expressions to help evenly distribute the Botox throughout the injection site.
Botox Training at National Laser Institute
National Laser Institute offers Botox and dermal filler training for physicians, nurses and medical professionals that can be completed in as little as a weekend!
With over a decade of excellence, our CE/CME courses combine classroom education and clinical hands-on training for the ultimate learning experience.
The didactic portion of the course will teach you everything you need to know about the various types of neurotoxins and fillers, the aging process, indications for Botox treatments and safety.
Clinicals are spent in a medical spa environment where you will observe comprehensive Botox and fillers demonstrations no more than a foot away from the training bed, and you will administer these cosmetic treatments on real, paying clients.
By the end of your cosmetic injectable training at National Laser Institute, you will feel comfortable and confident performing a variety of cosmetic treatments, including Botox, dermal fillers (Restylane®, Perlane® and Juvederm®), Kybella, Platelet-Rich Plasma (PRP), PDO threads and more!
For more information on Botox training and our CE/CME courses, fill out the form on your right or give us a call at 800-982-6817.