Botox Approved to Treat Forehead Lines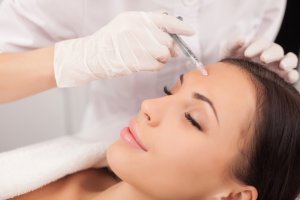 Cosmetic injectables are everywhere these days.
While other injectables like dermal fillers and Kybella are on the rise, Botox has held on to the top spot as the No. 1 medical aesthetic treatment, according to the American Society of Plastic Surgeons (ASPS).
On October 3, the Food and Drug Administration (FDA) approved Botox to treat forehead lines.
Uses for Botox
The FDA approved Botox for the temporary improvement in the appearance of moderate to severe forehead lines associated with frontalis muscle activity in adults.
This recent approval makes Botox the first and only neurotoxin indicated for three facial treatment areas, including crow's feet and glabellar lines (commonly referred to as "11's").
But hasn't the botulinum toxin been treating forehead lines for years? Yes, but that's because nurses and doctors have been using the cosmetic injectable to treat forehead lines "off-label," meaning it wasn't approved by the FDA.
Once a drug obtains FDA approval for one condition, a nurse or doctor can legally prescribe it for other conditions, which they believe can benefit from that particular drug. This recent FDA-approval means the drug has passed a number of clinical trials.
What is Botox Training?
Botox training is offered at esthetic schools across the country. The programs are designed for doctors, nurses and medical professionals who are looking to expand their knowledge and skills in cosmetic injectables like Botox and dermal fillers.
When you attend National Laser Institute for Botox training, not only will you learn proper injection technique, but you will also learn the protocols associated with these medical aesthetics treatments.
During a Botox and cosmetic injectables course, you will learn:
Facial anatomy. This is one of the first things you learn during Botox training. It's important to not only know the proper names of different muscle groups but also their location and function.
How to check labels. Each manufacturer of the botulinum toxin has a minimum saline-to-botulism ratio, which is important to follow when administering a treatment.
Proper dosage. Botox is not a "one size fits all" treatment, because each client is different. It's important to learn how to measure the correct dosage not only for the correct treatment but also the individual client. Gender also makes a difference when it comes to Botox. Men typically have larger muscles than females, meaning they require a higher dose of the product.
Client assessment. Not every client is a good candidate for Botox. Some people are more prone to bruising and other side effects than others. You will learn the ins and outs of the consultation process, including how to perform the physical examination.
Botox Training at National Laser Institute
If you are a nurse, doctor or medical professional, you are eligible to take one of our Botox training courses, which can be completed in just 1-2 weeks!
Our courses are divided into didactic and clinical hands-on training for the most comprehensive learning experience.
In the classroom, you will learn things like facial anatomy, proper Botox injection technique, patient selection, and pre- and post-patient care.
During hands-on training, you are placed in small, intimate groups where you will watch comprehensive Botox demonstrations no more than a few feet from the training bed. You will also have the opportunity to perform some of the most popular and in-demand Botox and cosmetic injectable treatments on scheduled clients.
When it comes to hands-on training, we set ourselves apart from other schools, because we have a dedicated team that works around the clock to provide you with scheduled clients for real-world experience.
Botox training is a wonderful opportunity for doctors who want to expand their practice and increase revenue by adding Botox/injectables and laser treatments as they are cash-based procedures. Many RNs take these courses to broaden their skill set and gain supplemental income or start a new full-time career as a cosmetic nurse.
To learn more about Botox training or any of our other cosmetic injectable training courses, please give us a call at 800-982-6817, and one of our admissions advisors will be happy to assist you!