Laser Hair Removal Training for Career Changers
Laser hair removal training isn't just for aestheticians and medical professionals. In most states, those wishing to make a career change into a new field can easily become trained in two weeks or less in order to earn cosmetic laser certification.
Those who make the change enjoy working with clients one-on-one within the world of skin care and anti-aging. There is a great joy in bringing someone confidence through skin improvement. Those who obtain cosmetic laser training can not only gain laser hair removal training, but training to also rid acne, eliminate wrinkles, fade stretch marks, and so much more.
There is a demand for cosmetic laser treatments, especially laser hair removal. Many people have chosen laser hair removal versus waxing or shaving because over time, hair doesn't ever grow back. To them, the money is worth the investment.
In order to receive laser hair removal training, it's imperative that you find the proper school. National Laser Institute is the leading laser school in the nation and has been around for over a decade. With NLI, you are able to obtain your cosmetic laser training in only two weeks!
Laser Training at NLI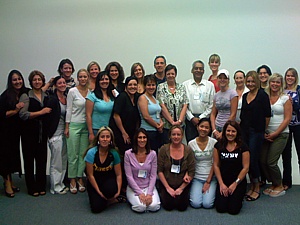 Recognized as gold standard education, National Laser Institute brings excellence to student education. The two-week laser training course is a comprehensive class that includes both hands-on training as well as classroom education. Classes are led by top, leading experts in the field. Students participate in hands-on clinical training with scheduled clientele within a retail medical spa environment.
Should you be intimidated if you've never worked with lasers before? Absolutely not! Many students who take this course know nothing about cosmetic laser technology–and that's okay. NLI gives you everything you need to know in order to feel comfortable and confident in not only your knowledge base of lasers, but performing with them as well. Some of the objectives covered are laser safety, the Fitzpatrick scale, tissue interaction, biophysics, pre and post treatment care, client selection, and much more.
In the comprehensive laser training course, students will learn laser hair removal, IPL photofacial skin rejuvenation, radiofrequency skin tightening, laser stretch mark removal, acne reduction, laser tattoo removal, and much more.
Ready for a change? We're here to help. Learn more about National Laser Institute and our comprehensive laser training course by filling out the form on your right or by calling 800.982.6817.
More laser training courses:
We also offer night courses!