Just Tattoo Removal
Laser Tattoo Removal Training Course
Our laser tattoo removal training course provides comprehensive classroom/didactic education, clinical observations, and hands-on tattoo removal training within our luxury medical spa where students will be treating actual clients. This course is ideal for those who want to specialize in laser tattoo removal treatments. Students will have opportunities to work on multiple different clients and tattoo types in order to practice safe and effective cosmetic laser techniques. The technology we use is most effective and includes all three wavelengths (1064/755/532) to address all colors. Although most tattoo devices do not include all three wavelengths, knowing the different types is key to success.
Laser tattoo removal works by using cosmetic laser technology directed at the tattoo's ink. The light and energy break the tattoo down into microscopic pigments that are then flushed out through the body's lymphatic system. Students who attend our laser tattoo removal training course will learn laser safety involved with laser tattoo removal as well as proper protocols, conducting client consultations, and tattoo removal techniques. This tattoo removal course is taught by leading laser experts who have been in this industry for years.
Why Laser Tattoo Removal?
The laser tattoo removal marketplace is booming! According to The Patient's Guide, tattoo removal increased 32% in the last year. Laser tattoo removal is a series treatment, meaning clients will need more than 1 treatment to see results. Because of this, the average revenue for a laser tattoo removal client is roughly $1,400. It only takes an average of 5 minutes to perform a laser tattoo removal treatment, which means tattoo removal could earn you nice financial profits. In fact, The Huffington Post wrote that laser tattoo removal may be a bigger business than actual tattooing.
Agenda
You can expect to learn the following in this custom laser tattoo removal training course:
• Tissue interaction
• Wavelengths and laser selection
• Pre and post procedural care
• Treatment contraindications
• Treatment plans and tattoo types
• Clinical observations on real clients
• Hands-on training with real tattoo clients
• Exposure to different skin and tattoo types
• Clinical experience within a retail medical spa environment
Career Advancement
If your business objective is to pursue a niche career in laser tattoo removal, then National Laser Institute is the school for you. Attendees who have received laser tattoo removal training from us have gone on to work in laser clinics, medical spas, tattoo shops, and have even opened up their own business. With cosmetic laser technology, anything is possible.
Laser Training Testimonials
I have been working as a laser technician out in Reno, Nevada. I do everything from tattoo removal to laser hair removal. I have been very successful and love working with lasers. I learned so much by coming to your school. It is one of the best decisions I have ever made. I had the best experience and I tell everyone that wants to get in this field to go to National Laser Institute. All of your staff were so great and so smart. They really do an amazing job. You really do have a wonderful program and it is a dream of mine to teach some day. Thank you so much!
– Brooke Daisley
I have been hired as a laser technician in a large medical spa in Anchorage, Alaska doing laser hair removal and tattoo removal. Without the great education and support I received I know I would not have found such a great job! I highly recommend NLI to anyone interested in the field of lasers and feel strongly that my money was well spent!
– Mary Ellen Genstler BBA, CLT, LMT, Esthetician
National Laser Institute went beyond my expectations for the laser tattoo removal course. The instructors were simply amazing. Shelley Cook helped me learn the ins and outs of laser tattoo removal. I was surprised at how much practical experience time I received and the variety of different clients that I worked on was great. I can't imagine going anywhere else to learn laser tattoo removal. Thanks, National Laser Institute!
– Edwin Miller
View hundreds more testimonials here!
All General Courses at NLI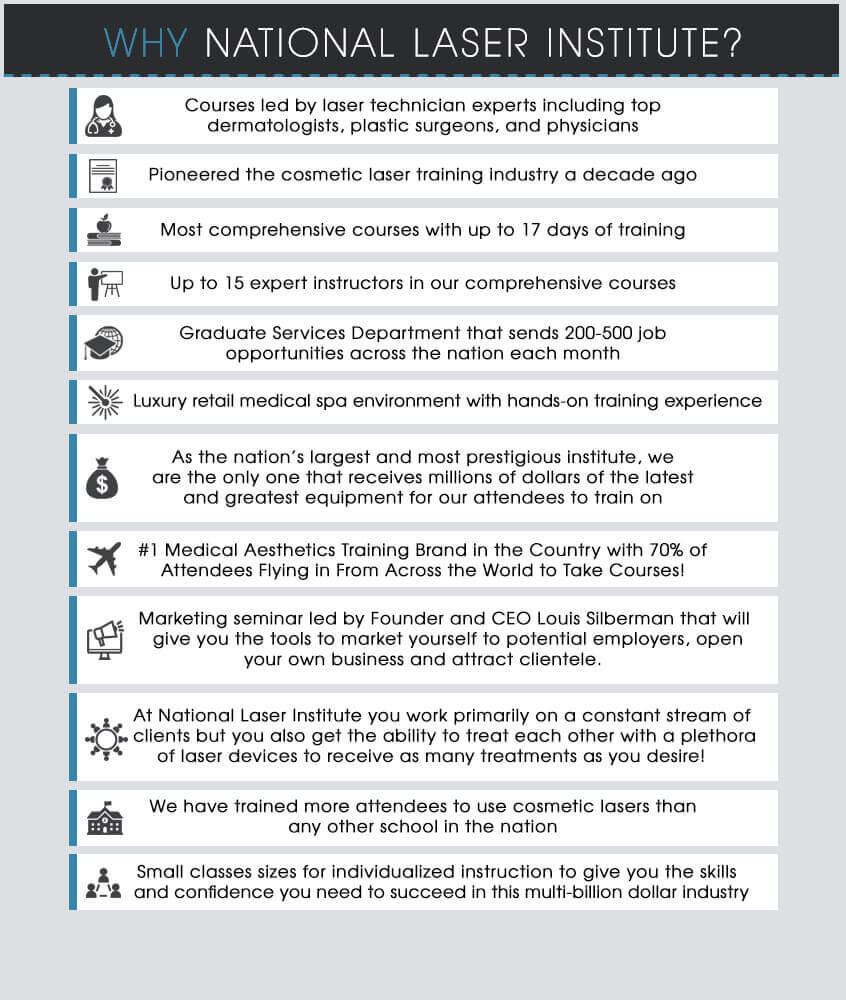 National Laser Institute
is the leading cosmetic laser school in the nation. We have been providing training to attendees for over a decade. Our courses are led by expert medical professionals and laser technicians in the field. Upon course completion, we give our graduates access to our
online medical aesthetics library
, which holds thousands of pages of resources like clinical studies, marketing materials, videos, and much more. Our
Graduate Services Department
also sends out between 200-500 job leads from all across the country each month.
Classes are offered every month, click to view the schedule.
For more details on our laser tattoo removal training course, please give us a call at 1-800-982-6817 or fill out our form on the bottom.