Ready to Learn Laser Hair Removal?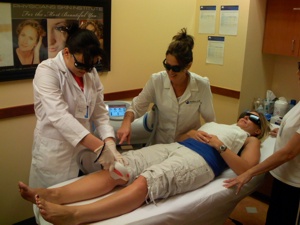 In recent years, there has been an explosion in the number of laser hair removal and medical aesthetics training schools. The market to learn laser hair removal and anti-aging laser treatments is stronger than ever, and getting stronger. According to the ASAPS, laser hair removal is one of the top nonsurgical cosmetic treatments performed in the United States. There were over a million laser hair removal treatments performed last year alone.
As the number of clients demanding these services grows, so does the need for qualified laser technicians. Now is the perfect time to learn laser hair removal training. A quality education provides not only superior classroom and hands-on training, but also the tools you'll need to start or grow your business. National Laser Institute offers everything you'll need to hit the ground running in the booming medical aesthetics industry in just two weeks' time. If you want to learn laser hair removal and all the top in-demand medical aesthetics services, we are the right place for you.
Learn Laser Hair Removal from the Best
Our instructors are experts in their fields, with experience and business savvy they will be happy to share with you. National Laser Institute is the largest laser training school in the country, and our reputation has stood the test of time. Employers in the medical aesthetics industry look for graduates from NLI because they can hit the ground running in any professional medical aesthetic setting. You'll learn marketing tips to grow or enhance your business, improved communication skills to build a loyal and satisfied clientele and all of the most highly requested laser and IPL modalities. We offer 100% financing to qualified applicants.
If you're ready to learn laser hair removal and so much more, don't make a decision until you've checked out National Laser Institute. We're here to answer all of your questions and help make your professional dreams come true.
You can learn more about National Laser Institute by watching our free medical esthetic webinars we offer each month! Check out our preview below.
Call us today at 1-800-982-6817 or fill out the form to the right.
Read more information on: