Microneedling Add-On Day
Microneedling Add-On Instruction Day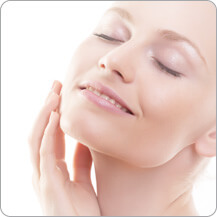 This 1-day course is specifically designed to provide you with a basic understanding of microneedling and help you better understand what you can safely do and accomplish with this great tool! National Laser Institute offers a full add-on day of microneedling training so that you can provide this in-demand service to your own clients.
One of today's most highly requested treatments, microneedling improves the skin's firmness while reducing the appearance of fine lines and acne scars, all with minimal downtime. Microneedling uses a pen-shaped device studded with several very fine needles, which is passed over the treatment area(s).
During our Microneedling Add-On Day, you will receive classroom and hands-on training in microneedling and learn how to combine this anti-aging service with other compatible cosmetic treatments for optimal results.
Our instructors are experts in the industry who have performed thousands of treatments over the years; they're both friendly and knowledgeable, making all students feel at ease in the classroom and comfortable when implementing these procedures.
Your tuition includes a course manual that consists of written materials and marketing tools such as examples of history, consent and policy forms, and a certificate of training upon course completion. We also provide you with access to our online medical aesthetics library, which contains resources like instructional videos, clinical studies and so much more.
Classroom (Didactic) Education
This microneedling course begins with a series of lectures led by industry-leading experts who will discuss topics such as treatment guidelines, pre- and post-care instructions, and client selection. You will also discuss topics like:
The history and development of microneedling devices
Treatment guidelines for the best results
Indications and contraindications of microneedling services
Serums and other topical products that can be used in combination with microneedling
The clinical uses of microneedling
Safety procedures and skin preparation
These classroom lectures will not only help you understand the basics of microneedling but will also prepare you for hands-on clinical training in a retail medical spa, where you will put your new skills to the test by treating real, paying clients.
Hands-On Training
To supplement classroom education, microneedling training at National Laser Institute includes clinicals where you will receive hands-on practice with microneedling devices in order to provide safe and effective treatments to your clients.
We like to keep our classroom sizes small to ensure that you will receive the most from your educational experience. During clinicals, you will be placed into small, intimate groups as you watch comprehensive demonstrations and administer treatments on paying clients while receiving one-on-one guidance from your instructor.
One of the things that separate the National Laser Institute from other aesthetic training schools is we spend millions of dollars each year to book clients for you to work on! In addition to treating patients, you can receive anti-aging services as well. To truly understand what your clients will experience, we believe it's important to have the procedure yourself!
Why Microneedling?
Microneedling, also known as collagen induction therapy (CIT), is in high demand because results are noticeable, and downtime is minimal. Clients love how their skin looks and feels, and they're especially happy they don't have to hide for days or weeks after microneedling treatments. This anti-aging service can also be used in conjunction with Intense Pulsed Light (IPL) for exceptional results.
Microneedling requires a series of treatments, meaning clients will need more than one procedure to see results. It only takes an average of 15 minutes to perform a microneedling treatment, which means this treatment could earn you nice financial profits. On average, a client may need between four and six treatments, spaced four to six weeks apart. These treatments can cost anywhere between $100 and $700 per session.
Course Objectives
By the end of our Microneedling Add-On Day, you will be able to:
Identify the clinical uses of microneedling
Demonstrate treatment protocols and the proper use of microneedling devices
Explain pre- and post-treatment care instructions
Understand the various formulations and ingredients of topical serums used with microneedling treatments
Explain how microneedling works for different skincare concerns
Evaluate your patient's skin to assess which procedures to use for the best results
Explain pre- and post-care protocols for microneedling
Laser Technician Career Advancement
If you are looking to add microneedling to your service menu, then our microneedling training is for you! This introductory course will provide you with the basics of microneedling. You will be able to provide these treatments in settings such as laser clinics, medical spas, physician's offices or even open your own business.
As a graduate of National Laser Institute, you will have access to our Graduate Services Department. We have a dedicated team that works around the clock to send out over 500 job leads a month to our alumni nationwide! If you need interview help, our staff will coach, motivate and prepare you for your interviews! We also offer one-on-one resume help sessions, too! We also provide you with access to our online medical aesthetics library, which has thousands of resources, including instructional videos, clinical studies and more.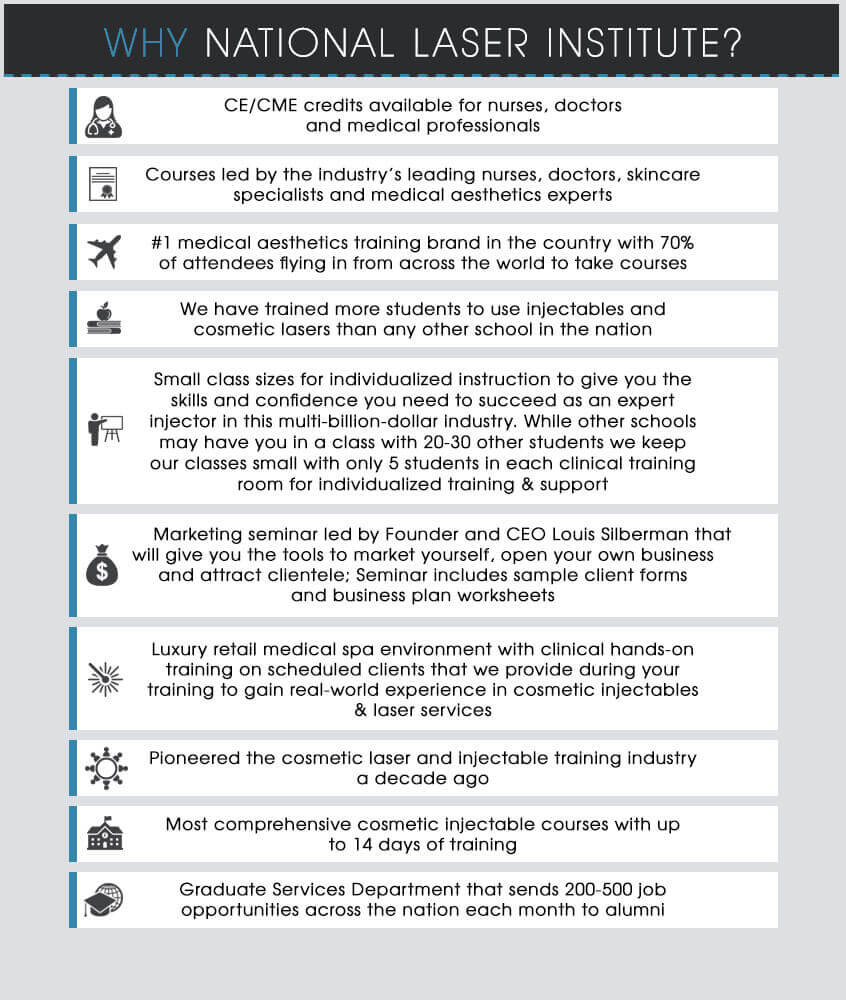 Laser Training Testimonials
National Laser Institute is the leading medical aesthetics school in the nation with over a decade of experience in the medical aesthetics industry. Each year, we train thousands of cosmetologists, estheticians and complete career changers on how to become cosmetic laser technicians. Read what our graduates have to say about their experience with us below!
NLI Student Success Stories
Greatest experience ever! I had so much fun and I learned so much. I enjoyed every part of this course. The teachers are awesome. Definitely worth your money! 
Nancy de la Torre
National Laser Institute is the complete package. Positive energy from day one to the very last day. Instructors, who are not only very knowledgeable, but can clearly articulate the information in their own unique way while making it fun! Wide variety of Lasers to use on a diverse clientele giving you real life applications! A current view of what is happening in the marketplace of Medical Aesthetics. You will not go wrong with choosing NLI as your Education Provider!!!
Lisa Pomp
National Laser Institute is incredible! I chose to attend this school as a complete career change. It is truly the best decision I've ever made! I am confident that I will be successful in my career by utilizing the information and techniques that I have learned. It's an amazing field to get into and National Laser Institute is the place to start! 
Jordyn Suckoll
View hundreds more medical professional testimonials here!
For more details on our microneedling training course, please give us a call at 480-290-7399 or fill out our form on the bottom.