Microneedling Add-On Day
Microneedling Add-On Day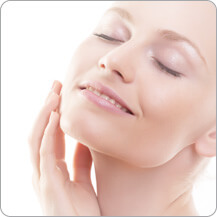 One of today's most highly requested treatments, microneedling improves skin's firmness while reducing the appearance of fine lines and acne scars, all with minimal downtime. Microneedling uses a minimally invasive pen-shaped device studded with several very fine needles, which is passed over the treatment area(s). The needles break down old tissue, causing deliberate minor injury to the skin's surface thereby stimulating the healing process. Over time, new collagen is produced and the result is younger, healthier, more beautiful looking skin. National Laser Institute offers a full add-on day of microneedling training so that you can offer this in-demand service to your own clients.
Microneedling can be used alone or with serums that are infused deeply into the skin. Popular serums include hyaluronic acid to add moisture and reduce wrinkles, vitamin C to rejuvenate skin, skin lighteners to reduce hyperpigmentation and various acne-fighting ingredients that destroy bacteria. Microneedling can also be used in conjunction with Intense Pulsed Light (IPL) for exceptional results. Clients love how their skin looks and feels, and they're especially happy they don't have to hide for days or weeks after microneedling treatments. In most cases, the skin is pink and puffy for 24-48 hours after treatment, and there may be minimal pinpoint bleeding and/or bruising. A few days after treatment, skin is noticeably smoother and more radiant, and fully appreciable results typically occur a few months later.
Why Microneedling?
Microneedling is in high demand because results are noticeable and downtime is minimal. Other microneedling benefits include:
Cost effectiveness (less expensive than other resurfacing procedures)
Improved efficacy of topical agents used in conjunction with microneedling
Pore size reduction
Scar reduction including acne scars
Improved appearance of stretch marks
Wrinkle reduction
Suitable for most skin types
Microneedling at National Laser Institute
During our microneedling add-on day, you'll receive classroom and hands-on training in microneedling, safety procedures, skin preparation, treatment, post-treatment care and how to combine microneedling with other compatible treatments for optimal results. Graduates of National Laser Institute are fully prepared to care for their clientele.
Do I Need to be an Aesthetician to Perform Microneedling?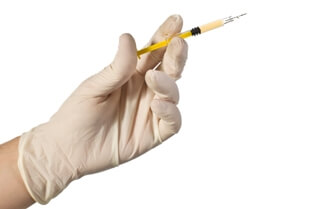 No! Many of our students are career changers without any background in the aesthetics business. In just one- or two-weeks at our training institute, you'll be fully certified to perform laser-based cosmetic treatments. Our instructors are experts in the industry who have performed thousands of treatments over the years; they're both friendly and knowledgeable, making all students feel at ease in the classroom and comfortable when performing treatments.
Medical Professional Testimonials
Greatest experience ever! I had so much fun and I learned so much. I enjoyed every part of this course. The teachers are awesome. Definitely worth your money!
– Nancy de la Torre
National Laser Institute is the complete package. Positive energy from day one to the very last day. Instructors, who are not only very knowledgeable, but can clearly articulate the information in their own unique way while making it fun! Wide variety of Lasers to use on a diverse clientele giving you real life applications! A current view of what is happening in the marketplace of Medical Aesthetics. You will not go wrong with choosing NLI as your Education Provider!!!
– Lisa Pomp
National Laser Institute is incredible! I chose to attend this school as a complete career change. It is truly the best decision I've ever made! I am confident that I will be successful in my career by utilizing the information and techniques that I have learned. It's an amazing field to get into and National Laser Institute is the place to start!
– Jordyn Suckoll
All General Courses at National Laser Institute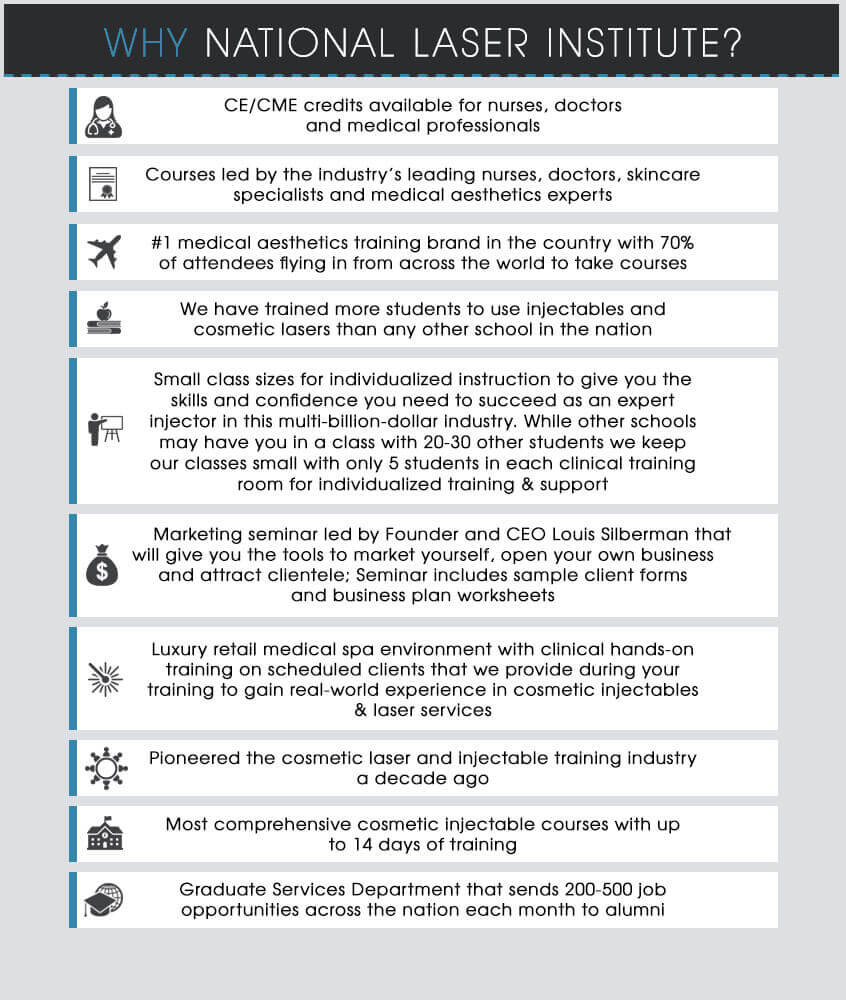 Classes are offered every month, click to view the schedule.
For more details on our microneedling training course, please give us a call at 800-982-6817 or fill out our form on the bottom.