5 Benefits of Cosmetic Dermatology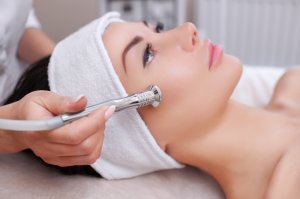 Dull, damaged skin can impact your life without you even realizing it! Small imperfections can make a big difference when it comes to your skin.
Cosmetic dermatology is one way your clients can reclaim their skin. This field has been influenced significantly by emerging laser technology.
Laser equipment can be used for medical procedures like skin cancer treatments and cosmetic uses like skin rejuvenation.
Using cosmetic lasers has become more appealing to clients as it can reduce scars and offer shorter recovery times.
Here is everything you should know about cosmetic dermatology in the medical aesthetics industry!
Benefits of Cosmetic Dermatology
Besides overall skin complexion, cosmetic dermatology has several benefits like:
Reduce scars.

Even if your client's skin is healthy, the discoloration or texture from a scar can detract from your client's overall appearance. This is particularly true with acne scars since they tend to appear in groups. The precision of laser scar reduction treatments can give your clients even, healthy skin again.

Make clients appear younger.

Clients can also have their skin tightened and wrinkles smoothed with Botox, dermal fillers and other techniques for a youthful appearance.

Hide spider veins.

Small, dark clusters of veins visible through the skin can be off-putting to those who have them. Cosmetic laser treatments reduce and eliminate spider veins. Varicose veins can be improved with this method too!

Have clients achieve a healthy glow.

Treatments like skin peels and chemical peels remove the outermost layers of dead skin to expose the healthy skin underneath. Your client's skin will appear smoother and more vibrant after one of these treatments.

Increase confidence.

The most significant effect of cosmetic dermatology is the way it can unlock your client's self-esteem. Clear, smooth and healthy skin can make your clients feel good about themselves. 
Medical Aesthetics Training at National Laser Institute
If you are looking for a new career, consider cosmetic laser training at National Laser Institute! We offer medical aesthetics training courses that can be completed in just two weeks.
Our Comprehensive Laser Course is the most sought after as it provides didactic education and clinical hands-on training for the ultimate learning experience.
Half of the course is spent in didactic education where you will learn things like patient selection, laser physics, pre- and post-treatment care, and more. This will prepare you for your clinical hands-on training.
The rest of the course is spent doing clinical hands-on training in a medical spa environment. You will watch comprehensive laser demonstrations from their instructors and perform a variety of laser treatments on clients we schedule for you!
We are the only esthetics school that spends millions of dollars each year to schedule real clients for you to work on during clinicals. It's just one of the things that set us apart from other schools.
And once you complete one of our cosmetic laser courses, you will have access to our Graduate Services Department, which sends out over 500 job leads a month to our alumni!
Prior attendees have found jobs at laser & niche clinics, medical spas, physician's offices, salons, fitness centers and more!
If you would like to learn more about course options at National Laser Institute, fill out the form on your right or give us a call at 1-480-290-7399.