How to Become a Part-Time Cosmetic Laser Technician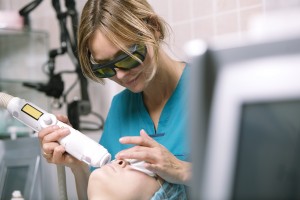 Advances in laser technology have made nonsurgical cosmetic procedures, at one time within reach only of the very wealthy, available and more affordable to everyone. Add to that more than 2,100 medical spas now open nationwide, and the social media phenomenon where celebrities such as Kim Kardashian happily share pics of their PRP blood facials — and the result is a world where millions of people are openly paying billions of dollars to look and feel their best.
These are just a few of the reasons why so many people are choosing to become a cosmetic laser technician. And though many love their new profession so much they work full-time hours, there are others where working part-time as a cosmetic laser technician is more suitable to their schedules. In-demand treatments such as laser hair removal, tattoo removal, skin rejuvenation, cellulite reduction and acne reduction typically start at around $75 and easily reach into the thousands of dollars (with clients paying in cash), making the earning potential for even the part-time laser technician strong.
While many cosmetic laser technicians work in day spas, med spas, laser centers, doctors' offices, hair salons and specialty salons, appointments are often most popular when clients have free time, such as evenings and weekends. This could be a perfect scenario for the part-time cosmetic laser technician, seeking supplemental income when others might not be interested in working. Other possible scenarios include job sharing (splitting hours with another cosmetic laser technician so that each works part-time with flexible hours) and niche positions such as laser tattoo removal only.
As more and more people want cosmetic laser services, the demand for qualified cosmetic laser technicians will increase. The job prospects for the technician are very bright, indeed.
To learn more about certified laser technician training, laser aesthetics training or National Laser Institute, please call 480-290-7399 or fill out the form on the right.