Boost Client Curve Appeal With Body Contouring Training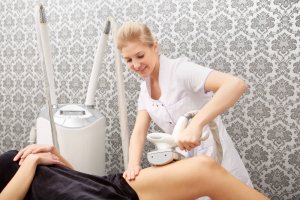 If there were a technology that allowed you to help your clients to temporarily reduce the appearance of cellulite and tighten their skin, would you add it to your service offering?
If you answered yes, we have the solution for you!
Body contouring training is a highly effective way for you to boost the curve appeal of your clients using ultrasound technology and cryolipolysis approved for the temporary reduction of cellulite with skin tightening.
By adding body contouring training to your service offering, you can give your clients the very best non-invasive, safe, and effective solution to temporarily reduce cellulite with skin tightening.
What is Body Contouring?
Body contouring is a term used to describe several aesthetic procedures designed to reshape and improve the appearance of the body. Nonsurgical fat reduction reduces stubborn pockets of fat to contour different areas of the body. Most treatments are based on one of several principles: cryolipolysis (controlled cooling), laser lipolysis (controlled heating and laser energy), radiofrequency lipolysis (controlled heating and ultrasound) or injection lipolysis (injectable deoxycholic acid).
At National Laser Institute, our students will focus on cryolipolysis and radiofrequency lipolysis.
CoolSculpting is a noninvasive fat reduction treatment that stems from the concept of cryolipolysis. Cold temperatures target and destroy fat cells in various areas of the body. The treatment kills fat cells, which are flushed out of the body via the lymphatic system.
Radiofrequency lipolysis uses ultrasound technology to tighten the skin by heating the adipose cells. Then lymphatic drainage is stimulated while the skin is massaged.
Learn Body Contouring at National Laser Institute
If you ever dreamed of having a career where you can help others look and feel their best, consider the medical aesthetics industry!
In two weeks or less, you can become a cosmetic laser tech after cosmetic laser training at National Laser Institute. We now offer body contouring and cellulite reduction as part of our Comprehensive Training Course.
For the ultimate learning experience, we combine didactic education with clinical hands-on training for the ultimate learning experience. Our goal is for you to feel comfortable and confident in performing cosmetic treatments in any medical setting.
By the end of training, you will have experience with treatments like laser hair removal, tattoo removal, acne reduction, skin tightening, IPL photofacial and more!
If you'd like to learn more about our courses, call 1-800-982-6817 or fill out our form on the right.