Say Goodbye to Acne Scars With Cosmetic Lasers!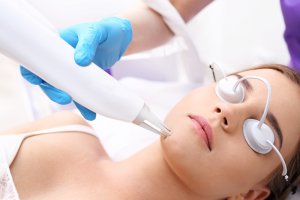 Acne is one of the most common skin conditions, and it doesn't only happen to teens. Adult men and women are experiencing breakouts in their 30s, 40s and even their 50s!
While there are several beauty creams and lotions on the market, medical aesthetics offers patients a non-surgical acne scar treatment that leaves their skin looking and feeling good.
Cosmetic Treatments For Acne Scars
Acne is a relatively common skin condition where the oil that lubricates the skin is blocked in the oil ducts and is unable to escape, causing pimples and scarring. Risk factors for developing acne include hormonal changes, certain medications and a diet high in refined sugars or carbohydrates.
There are several cosmetic treatments for acne scars, and laser acne treatments have been shown to be the most effective for addressing acne scars. A skin care specialist will be able to decide which treatment is best for their patients. They may use one or a combination of lasers for skin resurfacing, including Fraxel, carbon dioxide, fractional or Pixel laser.
Laser and Intense Pulsed Light (IPL) are two non-invasive methods that provide a solution for acne scarring. These treatments use a handheld device to deliver quick pulses of laser light, which penetrates the top layer of the skin. The body's natural healing process removes the damaged tissues and builds new collagen. This produces clear, fresh skin.
Benefits of Acne Scar Laser Treatments
Anyone can enjoy the benefits of a laser treatment for acne, which is why so many patients choose this solution. Let's look at some of the benefits:
Non-invasive. Most patients opt for procedures that enable them to avoid going under the knife. An acne scar laser treatment is a non-invasive method that does not require any invasive surgery.
Fast and efficient. When it comes to a beauty regime, many people look for a solution that is effective and won't take up huge amounts of their time. This is exactly what you get with an acne scar treatment as the procedure is administered in just 30 minutes.
Boost your confidence. Obvious skin conditions such as acne can have a serious impact on self-esteem. Laser light therapy treatments help restore confidence in your skin!
Cosmetic Laser Training at National Laser Institute
If you are looking for a new career opportunity, consider the medical aesthetics industry! In just two weeks, you can earn your certification to become a laser tech with training from National Laser Institute.
For the ultimate learning experience, each course includes didactic education and clinical hands-on training. We want you to leave your medical aesthetics course feeling comfortable and confident in performing the cosmetic treatments you learned in school.
In the classroom, you will learn things like laser physics, the anatomy of the skin, the Fitzpatrick scale and patient care. During hands-on training, you will be placed in a small intimate group where you will watch live laser demonstrations and treat real clients we schedule for you!
Once you graduate, you will receive job leads from out Graduate Services Department, which sends out over 500 leads per month to our alumni. Previous students have found successful careers at laser and niche clinics, medical spas, physician's offices, salons, fitness centers and more.
If you would like to learn more about cosmetic laser training at National Laser Institute, fill out the form on the right or give us a call at 1-480-290-7399.