Why Cosmetologists Should Consider Cosmetic Laser Training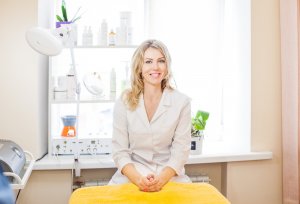 If you are about to graduate from beauty school, you are probably anxious about what your next step will be.
But have you considered the medical aesthetics industry?
Additional training to become a cosmetic laser tech (which can be completed in two weeks) opens up many aesthetics career opportunities in the $16 billion marketplace.
What Is A Cosmetic Laser Tech?
A cosmetic laser technician uses laser therapy for hair removal, skin tightening and other cosmetic applications. Their responsibilities include evaluating the skin, developing a treatment plan and carrying out the treatment.
Laser hair removal is a common use of cosmetic laser technology; however, tattoo removal, skin tightening and body contouring are also frequently requested services.
A successful laser tech works as part of a team to improve the self-esteem and health of the client. Excellent customer service skills, attention to detail and the willingness to consistently pursue training to stay current with laser technology advances are essential characteristics.
Cosmetic laser techs typically work in a medical spa under the supervision of a medical director. They may also work at physicians offices, dermatologists offices, salons, fitness centers and more!
In general, the training to become a laser tech can last anywhere from a few weeks to several months. Whichever esthetics school you choose, make sure it includes theoretical and practical aspects. Essential elements of medical aesthetics training include laser biophysics, Fitzpatrick sale, disorders of the skin and patient care.
Why Cosmetologist Should Consider Cosmetic Laser Training
Cosmetology and medical aesthetics are the perfect marriage of skills as each field focuses on helping others look and feel more beautiful. Medical aesthetics also offers:
Job growth.

The

Bureau of Labor Statistics

projects a 14 percent increase in the number of jobs for skincare specialists by the year 2026. This means that approximately 8,500 new jobs will be available in the medical aesthetics marketplace!
Long-term career opportunities.

With medical aesthetics, the

career possibilities

are endless! Becoming a cosmetic laser tech allows you to take your skills to salons, spas and other medical practices. It also lends the opportunity to start your own business.

High earning potential.

Because you are adding new skills to your toolbox, you can bring in

more revenue

.

Knowledge of cosmetic laser services.

Your existing clients will love the fact that you can cut and color their hair as well as perform procedures such as laser hair removal in one appointment!
Cosmetic Laser Training at National Laser Institute
Are you ready to enter the exciting medical aesthetics industry? Take the first step towards a lucrative career by enrolling in cosmetic laser courses at National Laser Institute!
Our two-week cosmetic laser course combines didactic education with hands-on training for the ultimate learning experience. Each course is taught by 13 different instructors with seven to 20 years of experience in the health and beauty field. 
In the classroom, you will learn about disorders of the skin, the Fitzpatrick scale, laser biophysics, tissue interaction, patient care and more. Clinicals will take place in a state-of-the-art medical spa environment where you will work on scheduled clients to gain real-world experience.
To help you with your job search, our Graduate Services Department sends out over 500 job leads a month to alumni across the country. Previous students have found careers working in laser and niche clinics, medical spas, physician's offices, salons, fitness centers and more!
For more information about National Laser Institute's course options, fill out the form on the right or call at 1-480-290-7399.