Five Things NOT to Say to Your Cosmetic Laser Clients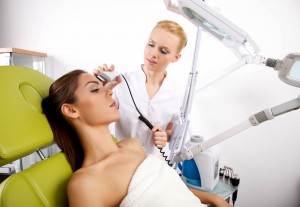 Have you ever gone in for say, a simple bang trim, and left the salon feeling devastated because of your stylist's unsolicited comments about your bad hair color, split ends and oh yeah, your eyebrows need work, too? Well, the same thing can happen in the cosmetic laser treatment room! Because the cosmetic laser industry is built around people wanting to look and feel better about themselves, the cosmetic laser technician can be a key player in helping them achieve their goals. Here's a light-hearted look at five things to NEVER say to your cosmetic laser clients:
#1 – "Whoops" (when operating a laser). Cosmetic lasers may look easy to use but they are extremely powerful devices, capable of creating dramatic changes in the skin. In the wrong hands, they're also capable of causing permanent damage. Your client is depending on your training, skill and expertise in using the laser to help improve a condition that's bugging her. "Whoops" will not instill her confidence in you!
#2 – "Have you ever wanted to get rid of…(those terrible wrinkles, your acne scars, that unibrow/love handles/cellulite, etc.)?" When a client comes to you for laser hair removal on her chin only and you notice other areas where you could help her, resist the urge to point them out. A kinder, gentler way would be through an initial consultation where you ask what her overall skincare goals are. If she brings up those other areas, you can discuss various treatment options with her. Otherwise, allow her to mention them as you develop a relationship with her over time. You can also do a "soft sell" during treatments in which you describe another client's recent (wonderful) experience with, for example, cellulite reduction. You're planting a seed, rather than hitting her over the head with an insult hammer.
 #3 – "It's not that bad." Everyone has a different way of responding to experiences. For some people, a small scar left by a pimple can be simply covered up with makeup; for others, it's reason to hide from public view. Rather than telling the client how she should feel about a flaw (in your opinion), let her tell you about in her terms and ask what her treatment goals are.
 #4 – "I can make you beautiful!" One of your many responsibilities as a cosmetic laser technician is to manage your clients' expectations, ensuring they understand the treatment's benefits and limitations as well as potential outcomes before you turn on the machine. This isn't to say you should be negative; just realistic, professional and always, communicative.
#5 – "I think so." Don't play guessing games with your clients' skin! As a cosmetic laser technician, if you're unsure of anything—whether it's skin type, contraindications, pre-existing conditions, side effects, post-treatment procedures, etc.—delay treatment until you get a definitive answer to all of your questions. Clients may be temporarily annoyed that you cannot treat them at that moment, but they will thank you for not injuring them.
To learn more about cosmetic laser technician training, laser aesthetics training or National Laser Institute, please call 800-982-6817 or fill out the form on the right.