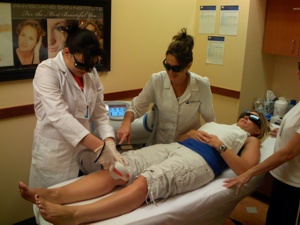 The field of laser cosmetology continues to grow. From permanent hair removal to skin care, tattoo removal and the reduction of cellulite, lasers can do a lot to enhance a person's appearance.
The medical cosmetics industry is expanding by leaps and bounds as increasing numbers of people demand access to aesthetic services that enhance their looks and take years off of their appearances. Careers in the field of laser cosmetology are both lucrative and stimulating. The field continues to change as new technological advances come onto the market, meaning there's always something new to learn.
A popular laser cosmetology service is the photofacial. Photofacials use intense beams of concentrated light to break up pigments under the skin and increase collagen. Dissolved pigments mean a less blotchy appearance while increased collagen means filled-in fine lines and overall wrinkle reduction. Most photofacials can accomplish the desired results in just a few sessions that last from half an hour to an hour each. Even though the laser beams that are used in this procedure are hot, the patient doesn't feel the heat and no lasting marks are left on the surface of the skin. The beams do their work in the sub-dermal layers.
Because more clients are taking a keen interest in these types of services, more and more laser careers have been born. A cosmetic laser technician uses their knowledge of laser safety, equipment, and skin type to select a treatment that is the most beneficial for the client. In order to begin your laser career, you must attend a laser training course to earn certification.
Laser Cosmetology Careers in Skin Care and Hair Removal
Finding a good school is the first step in having a career in laser cosmetology. The best schools have job placement assistance and a comprehensive curriculum taught by skilled professionals with years of experience in the field.
National Laser Institute can provide first-class training for you, giving you the best laser education you ask for. On top of offering a comprehensive laser training course, they also provide hands-on experience so students can practice with the most advanced equipment on clients within a retail medical spa environment. The combination of classroom and clinical training provides a well-rounded knowledge base for future laser technicians.
Our cosmetic laser training course takes only two simple weeks of training with us. After, you will be prepared and ready to go out into the world of cosmetic lasers and find your dream career. We do offer you continuing resources to help you, such as our Graduate Services Department that provides 100-200 job leads each month as well as access to our online medical aesthetic library that contains thousands of pages worth of information on this industry, clinical studies, marketing, and much more.
Thinking about making a career change into the laser industry? Join us for our free webinars each month! Our webinars are hosted by CEO and President, Louis Silberman, and many other expert laser technicians who discuss the industry, show you live demonstrations, and answer your FAQs live! You can sign up for our next webinar or view our webinar sneak peek below!

To learn more about enrolling with National Laser Institute, please call 800.982.6817 or simply fill out our form on the right!
Read more information on: