Laser Training for Medical Professionals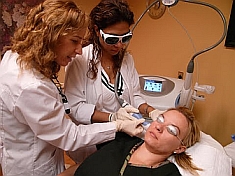 Recently, the American Society of Plastic Surgeons released 2012 statistics for nonsurgical cosmetic treatments. It was stated that over 6 million noninvasive treatments were performed in total in 2012, which made it an 8% increase from the year prior. In fact, the top 5 nonsurgical cosmetic treatments all increase in some percent, further proving that the medical esthetics industry is still rising and advancing.
If you're a medical professional, right now is the best time to receive cosmetic laser training. Laser training involves the study and practice of performing cosmetic treatments such as laser hair removal, laser tattoo removal, laser skin rejuvenation, and much more. By adding laser training to their practice, medical professionals have the opportunity to offer more services that don't require the hassle of insurance.
At National Laser Institute, medical professionals have the opportunity to earn CE/CME credits by enrolling and completing our laser training, Botox training, dermal filler training, or any of our medical esthetic courses. Our longest class offered is a comprehensive laser course that lasts two weeks, and we also have a medical professional 10-day course that involved learning laser, injectables, BHRT, sclerotherapy, skin rejuvenation, and much more.
Hollywood celebrities such as Miley Cyrus, Lea Michele, Eva Longoria, Kim Kardashian, and Megan Fox have received either laser tattoo removal treatments or laser hair removal, setting a trend that many people have followed. Because laser technology has advanced over the years, many people are willing and pay good money for treatments in order to reveal flawless skin.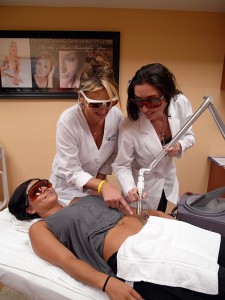 At National Laser Institute, medical professionals will receive hands-on training with scheduled clients with state of the art laser training equipment within a luxury medical spa. Experts in the field of medical esthetics teach both didactic classroom training as well as the hands-on, clinical portion. Past students who've completed their education at National Laser Institute have graduated feeling comfortable and confident when performing cosmetic laser treatments on their own patients.
National Laser Institute is recognized as gold standard education and has received a number of great reviews. We are a great choice when it comes to medical esthetician schools and offer in-depth laser training courses. To learn more, please call 800.982.6817.