Training For Laser Hair Removal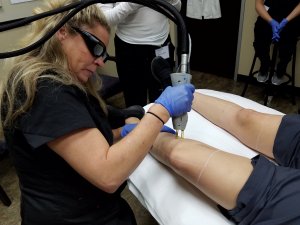 Laser hair removal is a profitable career choice. Salons and spas all over the country are offering this service to their clients. The prospects for self-employment are also excellent in this burgeoning field. Have you considered training for laser hair removal?
It is the permanence of laser hair removal that people find so desirable. Once the hair has been dissolved with a laser, it is gone forever. There is no more need to shave. Skin is left smooth and shimmery forever. This provides both convenience and visible results. It is no wonder that clients are flocking to laser hair removal technicians in droves.
Training for Laser Hair Removal
You can get sound training for laser hair removal right now at National Laser Institute. We have the experienced instructors and small class sizes you need for a truly personal educational experience. Our training includes traditional classroom time as well as real world practice on actual clients of our own clinical spa. We also provide training in setting up and running your own laser hair removal business. No other laser hair removal training program can offer you so much. Best of all, if you need financial aid, it is available and includes both hotel expenses and airfare for the two weeks you will spend with us.
Call us today at 1-800-982-6817 or please use the form to the right for further information on our laser hair removal training program. Classes are going on right now. Enroll today and take the first step toward one of the best career choices of the 21st century.