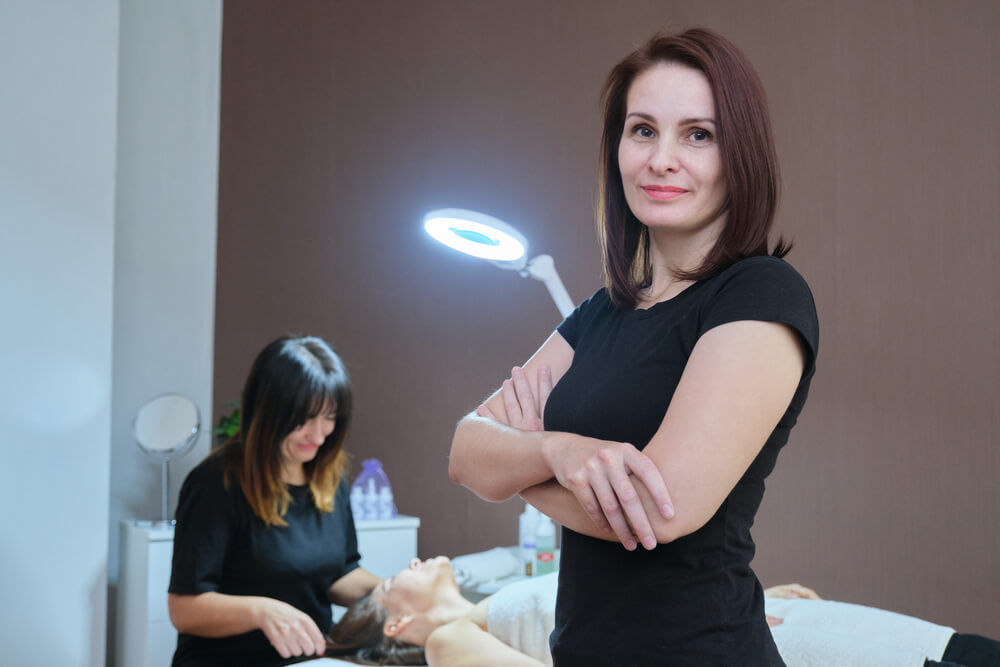 Chrissy Teigen's dewy skin, Kim Kardashian's honey glow, Rihanna's perfect complexion – if you think any of these starlets wake up as living, breathing goddesses without a little help from a professional esthetician who went to one of the country's top grade esthetician programs, you've lost your mind.
These well-known women, and their male counterparts (Chris Pratt has a pretty legitimate beauty ritual) are walking perfection due to the expertise of skilled estheticians. They all have strict regimes put forth by their most trusted skin expert and most aren't afraid to gab about it.
"After working with my esthetician, I began to understand that skin health goes far beyond how well you clean your skin every day or what you put on it topically. I realized the importance of a holistic skincare approach. To help with my breakouts, I started by changing my diet. I tried to incorporate more greens and cut out dairy. This made such a difference. To be honest, I have a major sweet tooth and… I love ice cream. Ice cream has both sugar and dairy, which can be really hard for your body to digest. Once I cut this out of my diet for a while and added more greens, my skin began to clear up." — Olivia Culpo (with her swoon worthy skin) said in a recent Byrdie article.
And where, pray tell, did their estheticians earn their status and stripes? Well, like we mentioned before, at prestigious esthetician programs. They toiled and studied and learned and worked their way to graduation.
A Road to Beauty:
Okay, we want to back up to say that we aren't the most superficial, empty-minded, celebrity-fawning people in the world but there's a really good reason you should be enamored with the wheelhouse of an esthetician: Hollywood starlets, their skin, and the glam that surrounds their lives.
Estheticians to the stars, the upper echelon of the skincare tier, have incredible jobs. They rub elbows (and temples) with Hollywood elite. Their specialized skillsets and calendar slots are coveted by the famous masses
One Such Esthetician:
Melissa Haloossim, recognizable for being Kim Kardashian West's on-call esthetician, has even been known to give her famous clients late night facials to work around both of their hectic schedules!
Undoubtedly, the longtime esthetician is no stranger to the field of medical aesthetics. In fact, the driven mother of four kiddos, has taken a brilliant route to success. She is a nurse practitioner turned skincare mogul (read her ridiculously impressive bio here). Before co-founding Skin Thesis (an upscale, medical aesthetics clinic in West Hollywood) she led a team of eight nurses who performed laser treatments and administered injectables
That's right, lasers and injectables:
See? Haloossim is smart. She saw the blossoming opportunity in the world of medical aesthetics, and she struck while the iron was white hot (no worries, it's still hot). She received skin care and cosmetic laser training and worked for a plastic surgeon and dermatologist in private practice for several years.
The ambitious nurse dug in her heels and worked hard. She saw the brilliance and opportunity in the medical aesthetics industry, shouldered her way in with perseverance and now sits on a self-built empire.
You can do it too!
Undeniably, everyone's journey is different. But you can walk a path like the inspirational one above. As someone who has attended one of many esthetician programs, you are ready for the next natural step in your career.
Like Haloossim's, your passion for skincare and beauty burns bright.
Kim Kardashian West seems pretty comfy, cozy with her personal esthetician, but there are plenty of other clients to be had. Interestingly enough, many others swear by laser hair removal as well. In fact, Kim's sisters Khloe Kardashian and Kylie Jenner, swear by laser hair removal as well. So do Victoria Beckham, Alyssa Milano, Venessa Hudgens and Chrissy Teigen!
We're not saying your clients will all be celebrities…
Because, of course they won't be. Your client list will be as colorful as a rainbow. You will have older clients; you will care for Millennials and everyone in between. The one thing we can say with certainty is that none of your clients will be celebrities (or regular Joes like the rest of us for that matter) if you don't receive the right training and proper certification to offer them what they seek.
Make sense?
In short: being properly trained to perform cosmetic laser treatments means that your skill set will be in greater demand. Clients want to feel confident that you fully understand laser safety.
Do the work and add the training:
It needs to be said: there's a hole in your resume and we can see right through it. Go ahead and fill it in with cosmetic laser training. Maybe you've done this before by paging through esthetician programs, picking the right one, and enrolling.
Now it's time to do it again. Trust us, it won't be so unlike when you finally took the leap toward the career as an esthetician that you wanted. Thus, by taking this next, natural step you are staying up-to-date and relevant in your industry!
Well, there are some differences… (good ones)
Namely the fact that instead of it taking years to reach your goal, you can get your cosmetic laser certification in two weeks or less! So, in less time than it took to study for one of your finals during your esthetician programs, you can certify and begin work in the medical aesthetics industry!!
Esthetician programs pay off but let the good continue:
Another bonus? No ridiculous exams that will make you gnaw your nails to the quick. In our Hybrid* Online Comprehensive Laser Course you will learn from medical aesthetics industry professionals. In engaging courses that pair online classroom teaching and didactic training with hands-on work, you will remain absorbed and in tune with the lessons.
Upon receiving your certification, you will be confident in your new skills including:
Laser Hair Reduction
Laser Tattoo Removal
Photofacial
Coolsculpting Body Contouring
Radiofrequency Treatments
Skin Rejuvenation
Skin Tightening
Cellulite Reduction
Microneedling, and so much more.
Additionally, you will learn topics such as:
Treating different skin conditions and types
Evaluating skin types using the Fitzpatrick scale
Skin physiology and tissue interactions
Laser Physics
Laser Safety
Indications and contraindications
How to perform the consultation process
Laser settings and functionalities
Then the really fun stuff starts! After learning all you need to know about the safety and techniques of lasers, you will receive clinical hands-on training in a med spa environment at one of our nationwide locations.
Forge onward to the rest of your career:
In summary: you attended one of the best esthetician programs. Afterward, you found yourself submerged in the world of chemical peels, beauty and therapy of all kinds. You've now arrived at an impasse and it's time to move forward in your career. You deserve the advance. Your clients deserve (and will pay handsomely for) the padded list of offerings.
The time is today, and we'd be glad to help. Contact National Laser Institute at 480-290-7399 or chat online with one of our knowledgeable advisors.
During our Hybrid* Online Comprehensive Laser Course you will receive online classroom laser training with a variety of instructors and live demonstrations with several hours on each modality. Then choose one of our nationwide locations to attend your clinicals for hands-on learning!
Modalities include Laser Hair Removal, Photofacial, Laser Skin Rejuvenation, Radiofrequency Skin Rejuvenation, Coolsculpting, Cellulite Reduction, Tattoo Removal, Radiofrequency Skin Tightening, and Microneedling.